This super simple butternut squash soup with curry features one of my favorite spice blends: Garam Masala. This Indian blend of spices usually consists of a base of cardamom, cumin, cinnamon and nutmeg, though spice mixes can vary greatly.
This post contains affiliate links for which we may be compensated if a purchase is made through the links provided. For more information please read our affiliate disclosure.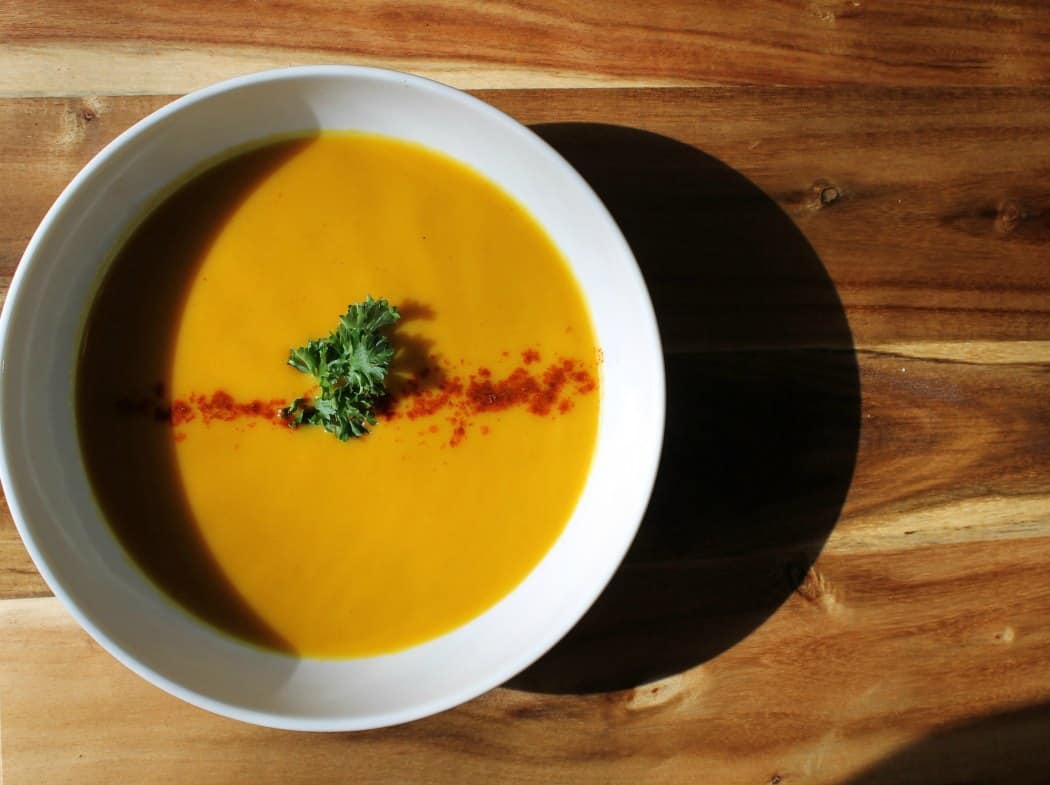 What Is Garam Masala?
When making my garam masala from scratch, I like to add garlic, onions, black pepper, nutmeg, and a chilli or two. The word 'Garam' is Hindi for hot or heating, and 'Masala' refers to spice mixture. That leaves us with "hot spice mixture".
While the spices themselves may not be overly "hot" themselves, the term comes from the Ayurvedic medicine system where all these spices heat or raise the body temperature of the patient.
Feel free to use whichever Garam Masala spice mixture you like, you can make your own, or buy a pre-mixed blend. I highly recommend adding this curry mix to your pantry with your other must have spices! I have used this garam masala recipe from The Tiffin Box before and it is quite tasty!
Butternut Squash Soup Recipe
This recipe is fairly simple in the fact that it is literally a one pot soup. Add everything to one pot, simmer it and ta-da, you have a delicious creamy butternut squash soup! You can add everything in at once, but if you do add certain ingredients in a specific order, you can develop and deepen the flavors and end up with a richer, fuller flavored soup.
Ingredients
You'll Need:
1 Butternut Squash
1 small carrot medium diced
4 small onions medium diced
2 ribs of celery medium diced
3 cloves garlic ,whole
2 tablespoon Garam Masala
2 teaspoon turmeric
3 bay leaves
1 teaspoon pepper corns
2 L water or stock (can be chicken or veg)
½ cup of 35% cream (omit for for Paleo or Vegetarian Option)
½ cup of white wine
a splash of maple syrup ( ever tried making your own maple syrup?)
a squeeze of lemon to taste
salt and pepper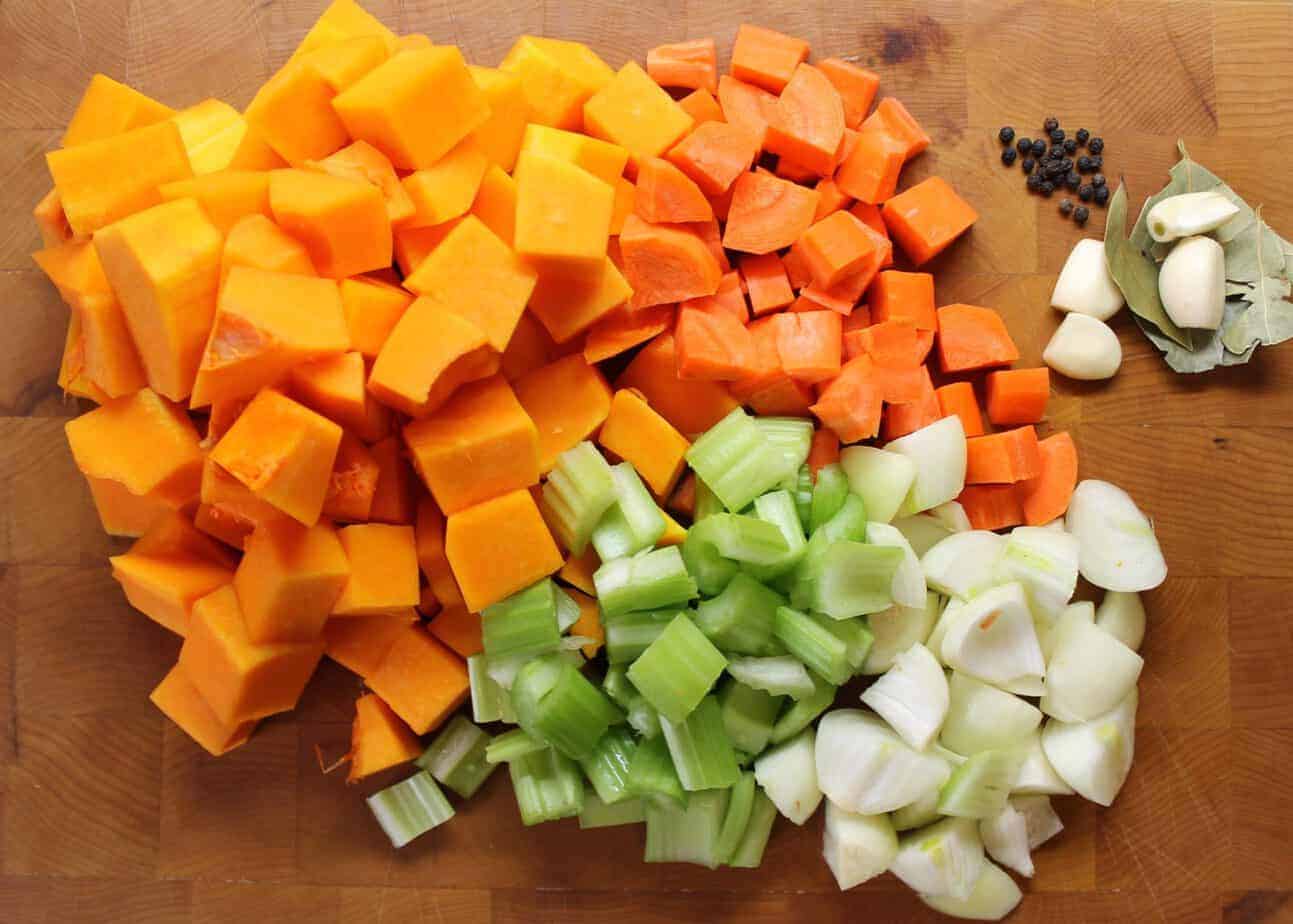 Instructions
So let's begin! I started by cutting all my vegetables first, but you can multitask by cutting your onions and carrots, then start to cook them, while you are cutting your squash.
Sweat (cook until translucent) the carrots and onions, along with the garlic, black peppercorns, and bayleaf, over a medium heat, in a little oil. Add your peeled and diced squash to the mixture, along with the garam masala spice mix and the turmeric.
Turn down the heat to low, and cook the spices for about 5 minutes, to help strengthen their flavor. Be careful not to let them burn on the bottom of the pot.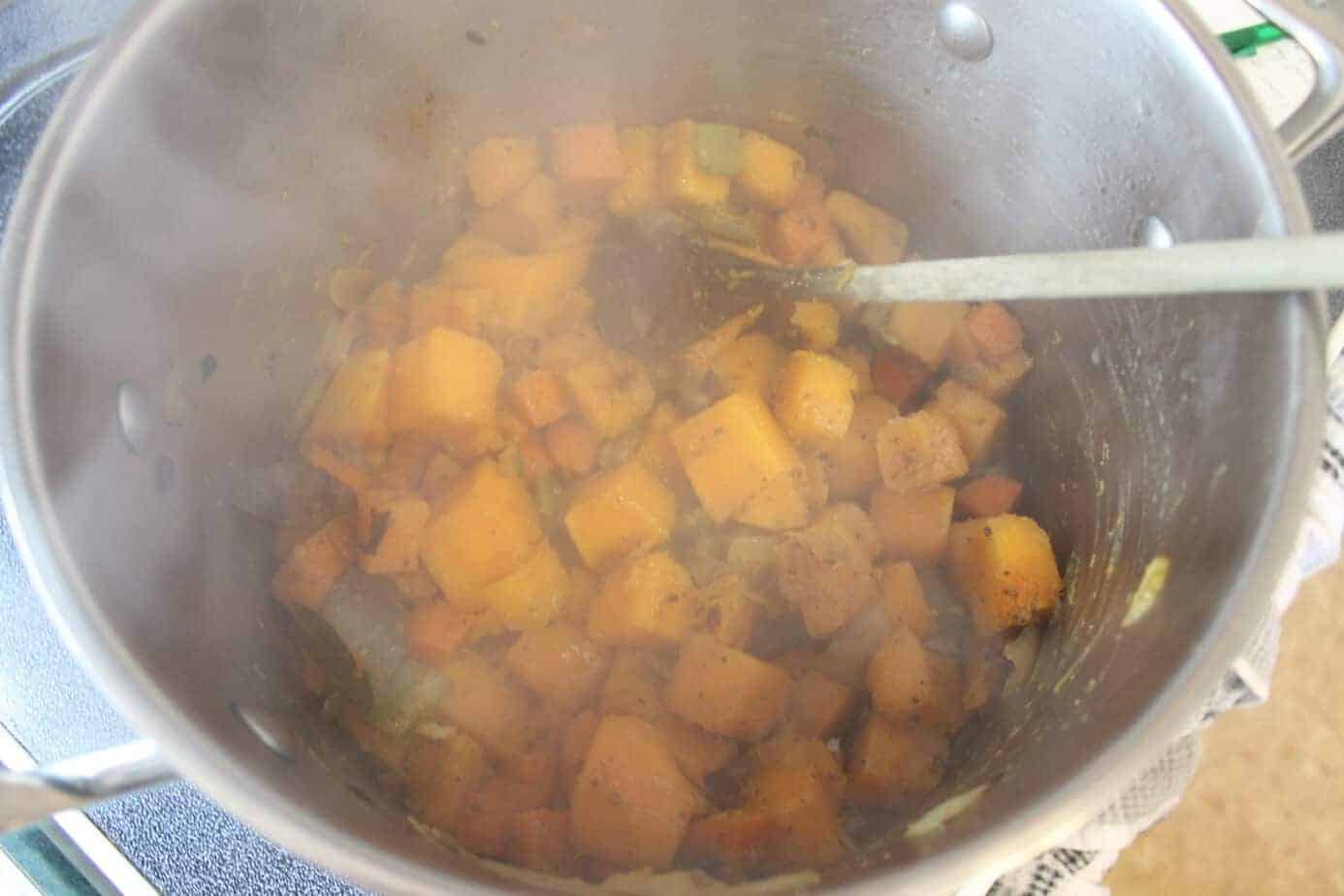 After four to five minutes, de-glaze the pot with your white wine, and use a wooden spoon to help loosen any spices or vegetables that may be stuck to the bottom of the pot.
If you don't loosen them at this stage, they may burn while your soup is simmering and create a bitter flavor. Once you have de-glazed the pot, add your stock or water to the mix.
If you use stock, you will end up with a richer end product, and chicken stock is ideal, though you can use beef stock or vegetable stock as well. Use vegetable stock if you want to keep the soup vegetarian and make sure to omit the cream at the end as well. Using water is not the end of the world if you don't have stock handy, and you will still end up with a flavourful butternut squash soup.
Cover the pot with a lid and simmer for about 40-50 minutes.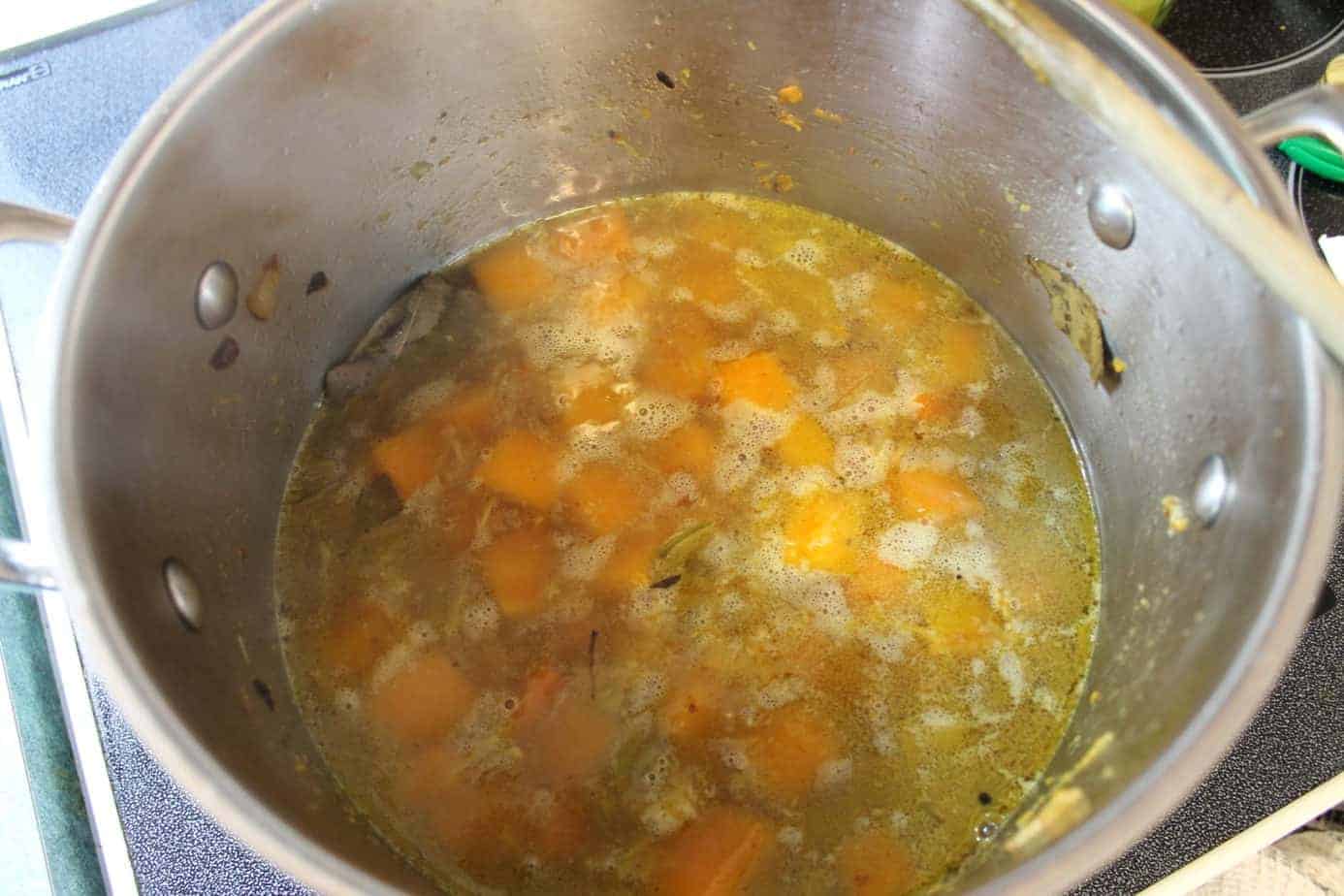 While the soup is simmering, make sure to stir the soup once in a while to ensure nothing is sticking to the bottom. As the squash cooks and breaks down, the soup will slowly thicken. You don't want your hard work to burn so be sure to stir! If you are keeping this recipe vegetarian-friendly, as mentioned, omit the cream in this next step.
Otherwise, add your cream and maple syrup now. The cream will add richness and a silky texture to the soup.
Puree the butternut squash soup in a blender or food processor. I use my trusty Nutri Ninja Blender (affiliate link) , you just have to do it in batches. Any blender will do though. If the squash was not fully cooked, you may end up with a grainy texture.
You can keep cooking the soup for a little longer and then puree it again to get around this, or you can strain the soup through a chinois for a perfectly smooth soup. At this point, season the soup with a squeeze of lemon juice, salt, and pepper. Either cool the soup for future use or return the seasoned soup to a clean pot, bring to a boil and serve!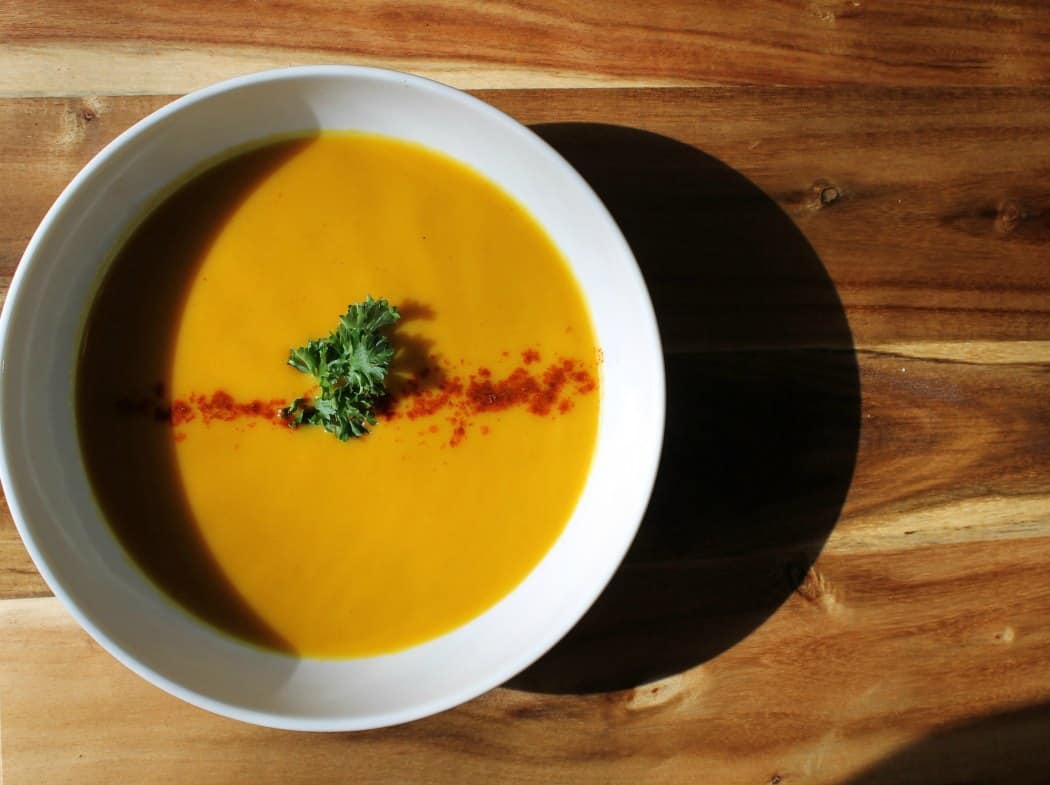 Make sure you're following me on Facebook, Twitter, Instagram, and Pinterest for weekly cooking tips, tricks, new recipes and to stay up to date with everything going on here at Earth, Food, and Fire!
Recipe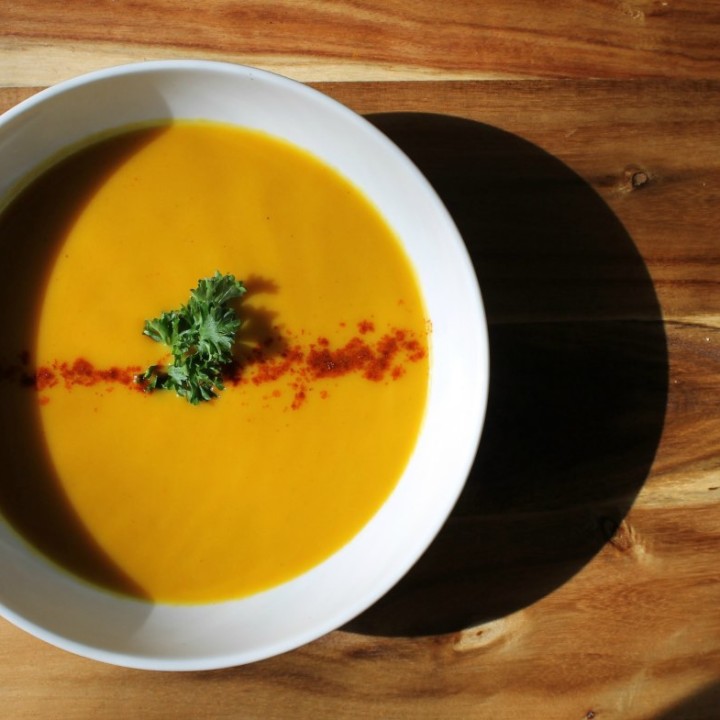 Butternut Squash and Garam Masala Cream Soup
Garam Masala adds a wonderfully light hint of curry to this butternut squash soup. A one pot recipe that takes only 1 hour start to finish! Great for an early spring dinner to warm you up on a cool evening!
Ingredients
1

large

Butternut Squash

1

small

carrot

medium diced

4

small

onions

medium diced

2

stalks

celery

medium diced

3

cloves

garlic

2

tablespoon

Garam Masala

2

teaspoon

turmeric

3

each

bay leaves

1

teaspoon

pepper corns

2

liters

water or stock

can be chicken or veg

½

cup

35% cream

½

cup

white wine

a splash of maple syrup

a squeeze of lemon to taste

salt and pepper
Instructions
Measure out all your spices and get the rest of the ingredients together.

Peel the carrots and onions and cut into a rough medium dice.

Start a pot on the stove over medium heat with a splash of olive oil.

Add the diced onions, carrots, whole garlic cloves, black peppercorns and bay leaves. Cook until the onions start to turn translucent.

While the onion and carrot mixture is cooking,peel and cut the butternut squash into a medium dice. Once the onions are translucent add the squash to the pot with the Garam Masala spice mixture and turmeric. Cook the spices for 5 minutes, making sure not to let them burn. turn down the heat and cook less if needed.

De-glaze the pot with the white wine and use a wooden spoon to loosen any spices that may be stuck to the bottom of the pot.

Add the water (or stock) and top up with enough liquid to cover the vegetables.

Cover the pot with a lid and simmer for 40 minutes to an hour, stirring occasionally to ensure the bottom doesn't burn.

After simmering the soup, add the maple syrup and cream, then puree in a blender. You can pass the soup through a strainer to ensure a completely smooth end product.

Season the soup with some lemon, salt and pepper.
Nutrition
Nutrition info is auto-generated. This information is an estimate; if you are on a special diet, please use your own calculations.