I received a copy of "Yogurt Every Day" from Penguin Random House for review purposes but was not otherwise compensated for writing this review. All opinions are 100% my own. Some of the links in this post lead to affiliate sites through which Earth, Food, and Fire may earn a small commission (at no increased cost to you) should you make a purchase. For more info check the Affiliate Disclaimer. The Giveaway has closed but you may purchase a copy of the book here.
I've always liked yogurt, my mother used to pack it in our lunch for school or give it as an afternoon snack. We always ate it on its own, or with various toppings such as berries, nuts, and honey.
Occasionally it would be used in a marinade or my mother's Cucumber Salad. I never really considered the many different ways you could eat or cook with yogurt until I got my hands on Yogurt Every Day by Hubert Cormier.
At first, cooking with yogurt for every meal seemed impossible, but with 75 recipes spanning breakfast, lunch, dinner, desserts, and snacks, Hubert makes this an easy and enjoyable task. The author does a fantastic job keeping the recipes varied, interesting, all at the same time healthy. Hubert has inspired me to try more recipes which use yogurt and to start making my own at home!
Overview & Introduction
A nutritionist and dietitian by trade, Hubert Cormier started his journey to writing Yogurt Every Day by researching a paper for his Phd on yogurt consumption and cardiometabolic risk factors. The results of his research into the benefits of eating more yogurt are quickly made evident.
By preparing and cooking recipes using yogurt, (especially Greek yogurt), you can increase your protein intake during meals, while at the same time reducing the fat content without loss of taste or texture.
Following the introduction, the reader is quickly introduced to a short history of yogurt, it's main health benefits, and ways of substituting yogurt for everyday ingredients. A great example of this is his Yogurt Mayonnaise (page 19), which sees Greek yogurt act as a substitute for regular full fat mayo, reducing the fat content while increasing the amount of protein. Reading these first few sections of the book really underlines how easy and beneficial cooking with yogurt can be.
Recipes
As the book's title suggests, Yogurt Every Day features recipes, (75 to be exact) which incorporate yogurt into every meal of the day with dedicated sections for:
The Basics (making your own yogurt at home)
Breakfast
Lunch
Dinner
Snacks
Desserts
The easy to follow layout makes it easy to jump back and forth between recipes depending on what meal you want to cook. Each recipe is accompanied by select symbols, creating a quick overview of serving sizes, prep time, cooking times etc. Recipes in the book are also accompanied by nutritional information to track daily intake values.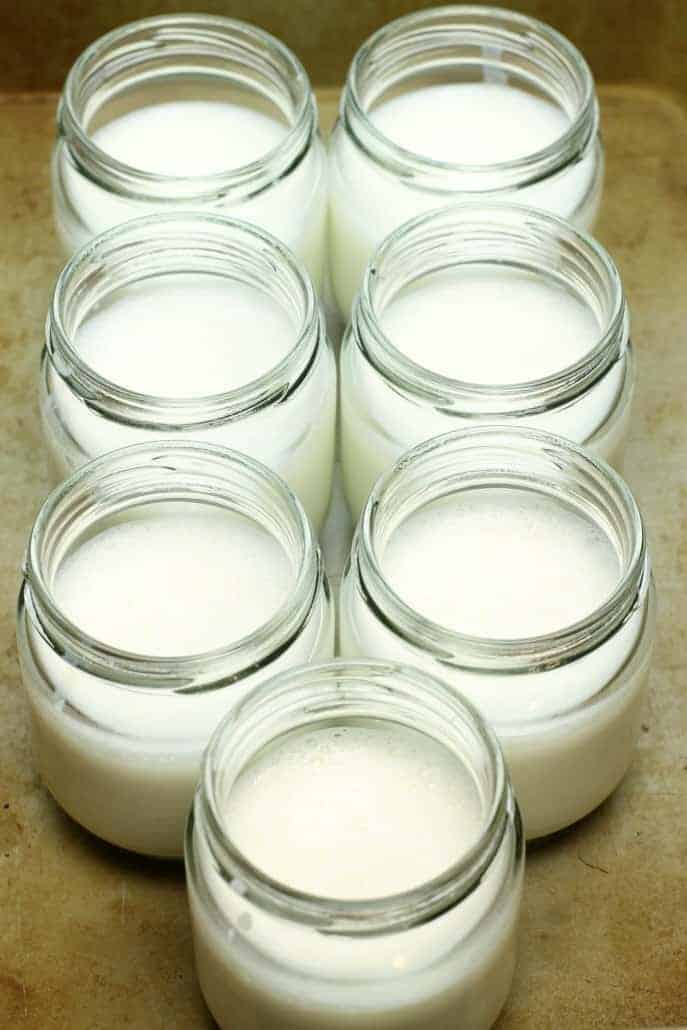 The first few recipes in the book are included in the section titled 'The Basics' and introduce the reader to various styles and methods of preparing yogurt at home. With recipes for making Greek yogurt (page 19), regular yogurt( page 13) and even a dairy free coconut version( page 18).
Hubert makes learning how to make yogurt at home easy. You don't even really need any special equipment and I was excited to learn you can make it with a few basic tools which you probably already have at home, (think slow cooker, or worst case a simple saucepan and stove will suffice!). If you want to start making various yogurts at home, this section itself is reason enough to add Yogurt Every Day to your bookshelf.
If making your own yogurt isn't your cup of tea, you can easily jump ahead to other sections of the book to plan out your meals for the day. Looking for a quick breakfast? Why not try the Mediterranean Burrito (page 41), or the Wafflewich (page 35), for a quick start to your day. Yogurt Pancakes (page 32), are ideal for a Sunday morning breakfast, and kids will love the Breakfast Milkshake (page 39). From simple breakfasts and midday snacks to dinner and desserts, you are bound to find a recipe you'll like.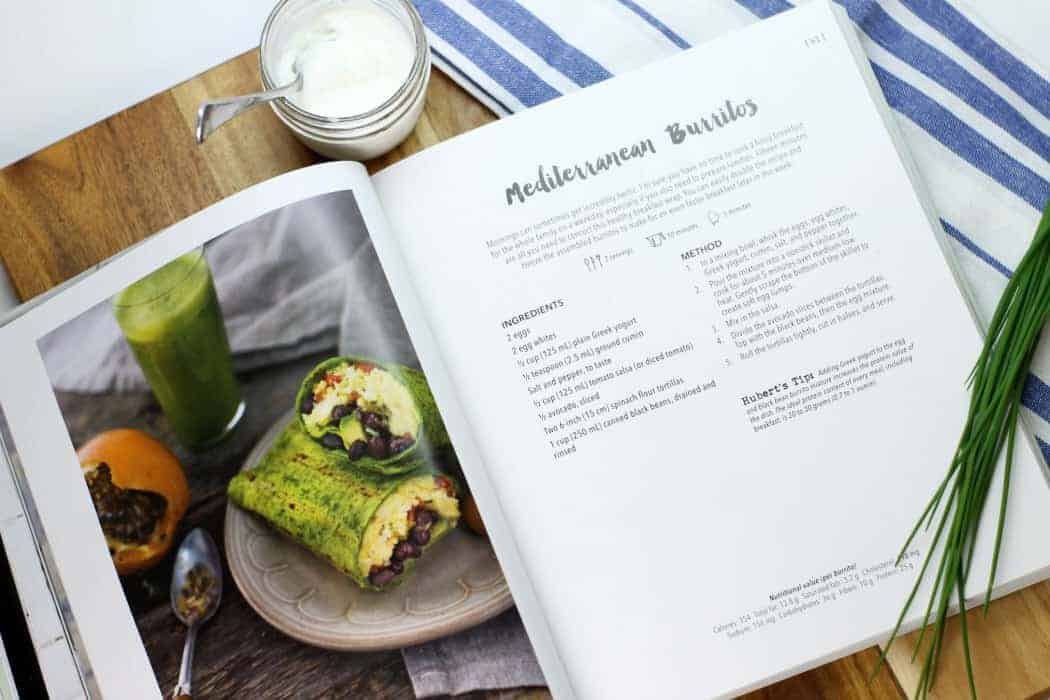 Tried and True
The first recipe I tested out of the book, (besides trying the homemade yogurt recipe) were the Stuffed Potatoes (page 115). If you're in need of a filling side dish for dinner these incredible stuffed potatoes will hit the spot.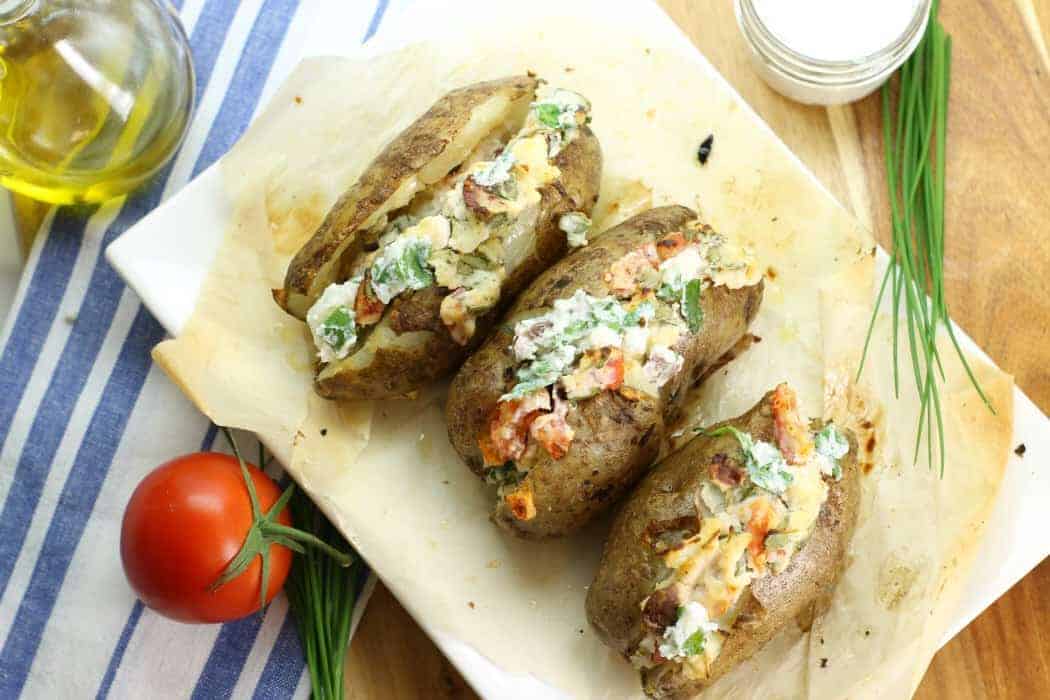 A very simple and straight forward recipe, the standard fillings for baked potatoes are switched with spinach, sundried tomato, and olives. Using the homemade yogurt lightens the "mashed potato filling", this results in a creamy and slightly tart flavour. It is the perfect balance to the salty olives and intense tomatoes. While the recipe could be easily be altered to suit individual tastes, I stuck to the book and was pleasantly surprised with just how easy the recipe was to follow and how accurate of a result I got. I'll be making this again for sure!
Recipe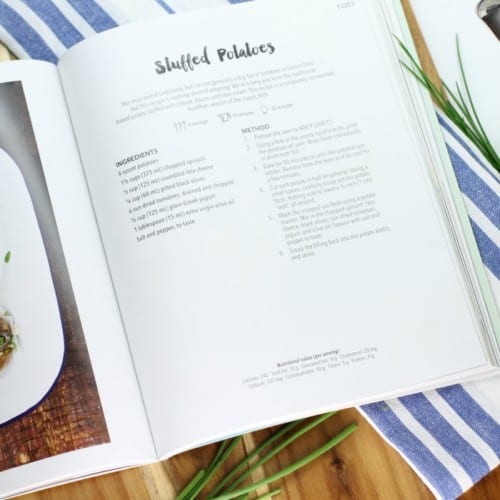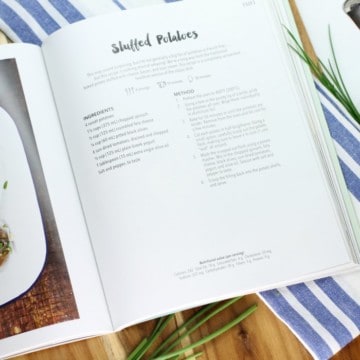 STUFFED POTATOES (Yogurt Every Day - PAGE 115)
This may sound surprising, but I'm not generally a big fan of potatoes or French fries... but this recipe is nothing short of amazing! We're a long way from the traditional baked potato stuffed with cheese, bacon, and sour cream. This recipe is a completely reinvented, healthier version of the classic dish.
Ingredients
4

whole

Russet Potatoes

1 ½

cups

Chopped Spinach

½

cup

Crumbled Feta Cheese

¼

cup

Pitted Black Olives

6

whole

Sun-dried tomatoes

drained and chopped

½

cup

plain Greek Yogurt

1

tablespoon

Extra Virgin Olive Oil

1

pinch

Salt and pepper

to taste
Instructions
Preheat oven to 400F (200C)

Using a fork or the pointy end of a knife, prick the potatoes all over. Wrap them individually in aluminum foil.

Bake for 50 minutes or until the potatoes are tender. Remove from the oven and let cool for a few minutes.

Cut each potato in half lengthwise. Using a small spoon, carefully scoop out the potato flesh, making sure to leave a ½-inch (1 cm) "wall" all around.

Mash the scooped-out flesh using a potato masher. Mix in the chopped spinach, feta cheese, black olives, sun-dried tomatoes, yogurt, and olive oil. Season with salt and pepper to taste.

Scoop the filling back into the potato shells and serve.
Nutrition
Nutrition info is auto-generated. This information is an estimate; if you are on a special diet, please use your own calculations.
Energy Balls (page 147)
I always tend to have a variety of homemade snacks around the kitchen, so these Energy Balls( page 147) were a natural fit in my meal prep and next on my list of recipes to try.
What makes these unique is that they contain no added sugar like most energy ball/bar recipes do. A simple mixture of dried nuts, seeds, and fruit, (dried figs, chia, sunflower, and macadamia), along with a few oats, a touch of grated dark chocolate, and of course yogurt, is all that's required here.
The recipe calls for blending the ingredients together in a food processor, but lacking one, I chopped everything by hand in brunoise style cut. While this did result in a coarser, chunkier mixture, the energy balls where delicious and you couldn't tell that yogurt was used at all!
Perfect for sneaking into a picky eaters diet! All that was then needed was to chill the energy balls until firm. A quick and healthy snack that only took about 15 minutes, start to finish! Again switching out ingredients for personal favorites seems like a straight forward option for anyone disliking figs or specific nuts.
A few other recipes I'll be trying out soon are the Lentil Patties (page 57), Braised Beef Shepherds Pie (page 97), Cracker Jack Popcorn (page 142), and the Blueberry Cobbler (page 187). Whichever recipes you decide to make, you can rest easy knowing they are all tried and true, (Hubert notes he fed all the recipes to his photographer with great success). You'll most likely not even realize you are eating yogurt in most of them!
Would I Buy It?
If you love yogurt and are looking for new ways to incorporate it into your diet, are simply interested in eating healthier, or are looking for a new cookbook you'll love to use, then this is the book for you. Yogurt Every Day does a great job showing how you can cook with yogurt and not just have to eat a bowl of plain yogurt. For me, the section on making yogurt at home was a real treat, and I loved that I could make the homemade yogurt recipes without having to go out and buy any specialized equipment or ingredients. Would I buy it? Yes I would!
Author: Hubert Cormier
Paperback: 208 pages
Publisher: Appetite by Random House
ISBN: 978-0-14-753042-4
Acknowledgement
Recipes courtesy of Penguin Random House Canada. Copyright © 2017 Hubert Cormier. All rights reserved.
Tried the recipes? Take a picture and tag me on Facebook & Instagram: @earthfoodandfire . For more from scratch recipes follow me on Instagram & Pinterest
Enter The Giveaway To Win A Copy
The Giveaway has closed but you may purchase a copy of the book here.
The Giveaway has closed but you may purchase a copy of the book here.
To be eligible to win a copy of 'Yogurt Every Day' by Hubert Cormier you must enter the contest with a valid e-mail address. You may un-subscribe from the Earth, Food, and Fire Newsletter at any time after the contest closes. This Giveaway is sponsored by Penguin Random House Canada and is open to residents of Canada only.