We received a copy of "The Great Shellfish Cookbook" from Appetite by Random House® for review purposes but was not otherwise compensated for writing this review. All opinions are 100% my own. Some of the links in this post lead to affiliate sites through which Earth, Food, and Fire may earn a small commission (at no increased cost to you) should you make a purchase. For more info check the Affiliate Disclaimer.
Living on the East Coast of Canada, I am lucky to have fresh fish and shellfish available pretty much year round. It's something that is easily taken for granted though,and not everyone has exposure to such a wide range of locally available seafood. This can make cooking shellfish (or other seafoods) at home seem daunting, when in reality, shellfish are one of the easiest foods to cook, ( in technical terms at least, but more on that in a minute!). Queue Chef Matt Dean Pettit and his wonderfully Canadian influenced, 'The Great Shellfish Cookbook'.
Overview & Introduction
In his second cookbook, Chef Pettit introduces shellfish to the average home cook in such a way that it is, inviting, easy to prepare, and most importantly delicious. Covering everything from the more common types shellfish, such as crab, mussels, shrimp, and lobster, to some more uncommon, but no less delicious shellfish, such as octopus, sea urchin, and periwinkles.
After a quick introduction where he discusses his love for cooking, and how this book and his latest business venture, (Matty's Seafood Brands) came to be , Matt dives right in and teaches you some shellfish basics with an extensive Shellfish 101 section. These twelve pages (I did say it was extensive) are jam packed with quite literally everything you need to know in order to cook shellfish at home.
Broken down by individual shellfish species, he covers everything from purchasing, storing, cleaning, and preparation methods. Along with a little background info and some fun-facts, this section of the cookbook is invaluable and will help you set your cooking apart from someone un-initiated in the ways of shellfish.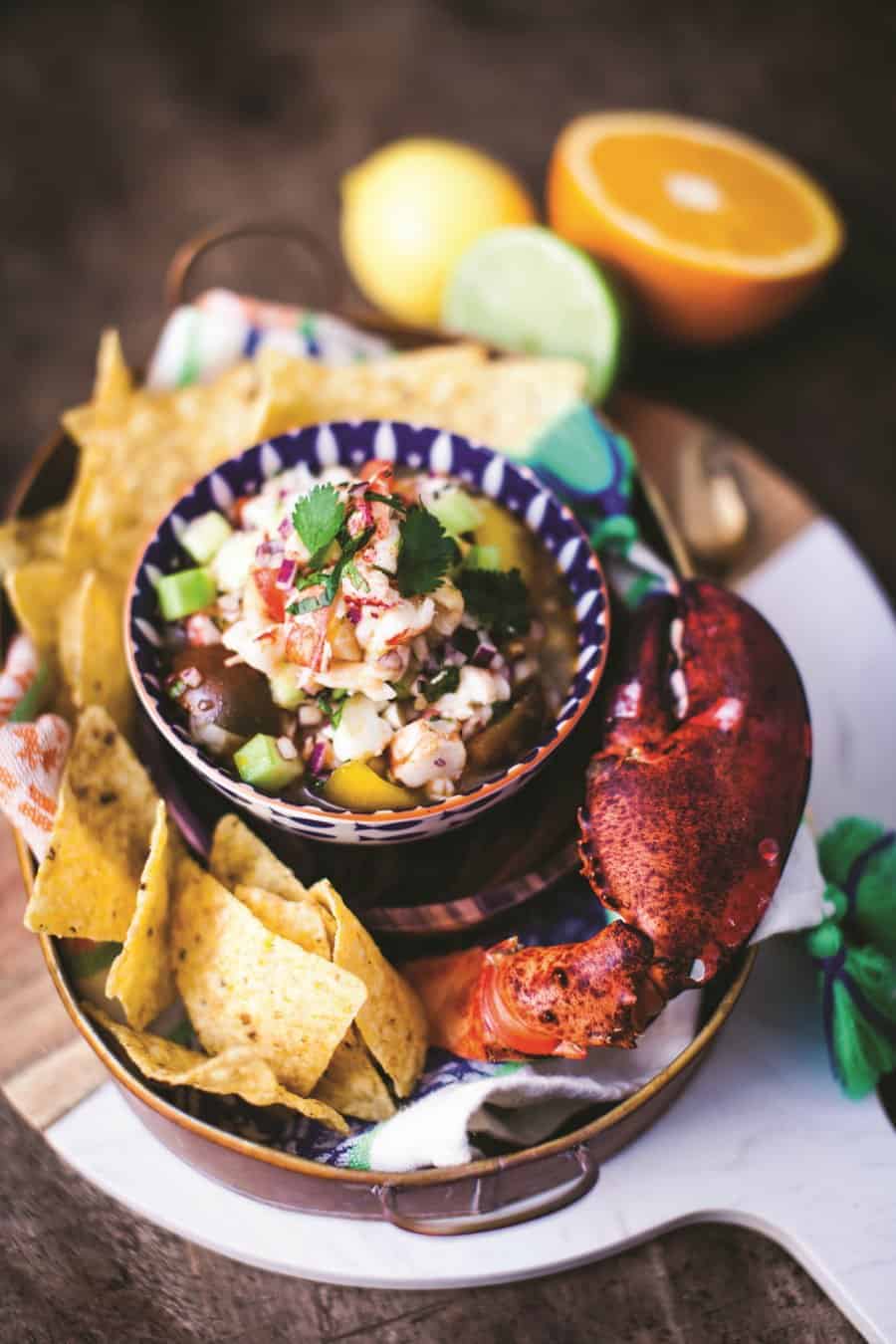 The Recipes
Filled with over 100 different recipes to cook at home, you'll be swimming in so many options that Matt has helpfully broken down the book into sections:
Clams
Crabs
Exotic Shellfish
Lobster
Mussels
Octopus & Squid
Oysters
Scallops
Shrimp & Prawns
Tasty Sides
Cocktails
Sauces & Staples
What a list eh! Like I said, you'll have shellfish coming out your ears! If at all possible I would recommend going down to your local fish monger, and making some friends, because lets face it, after seeing the fabulous looking pictures that accompany the recipes, you'll want to try every single one of them! I know I sure do!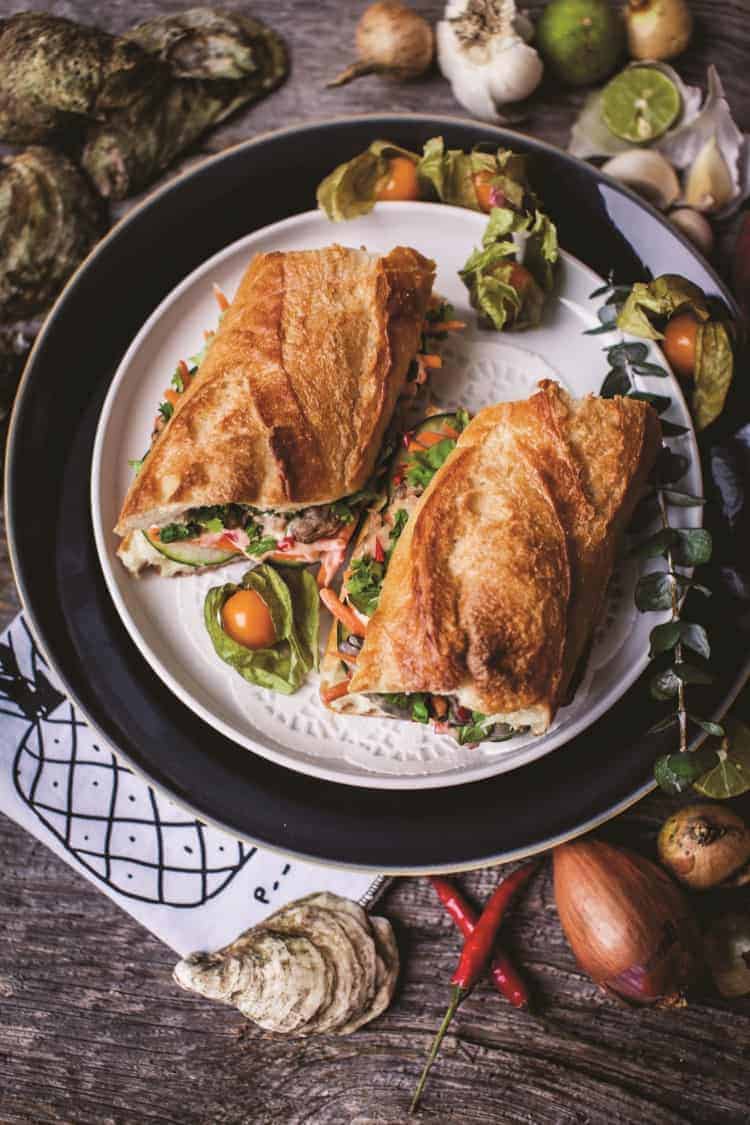 The cookbook covers a variety of recipes for different occasions, though who's to say you can't have brunch for dinner! Each recipe is accompanied by symbols to help guide you through the various recipes. There are recipes for brunch, lunch, dinner, quick and easy recipes, pastry, and even a few contributed by celebrity chefs.
Each recipe along with a small description and background, is described in detailed steps, ensuring an easy to follow method that anyone can follow, even if you did skip the Shellfish 101 at the start! Easy to read ingredient lists are displayed along side the method for easy reference.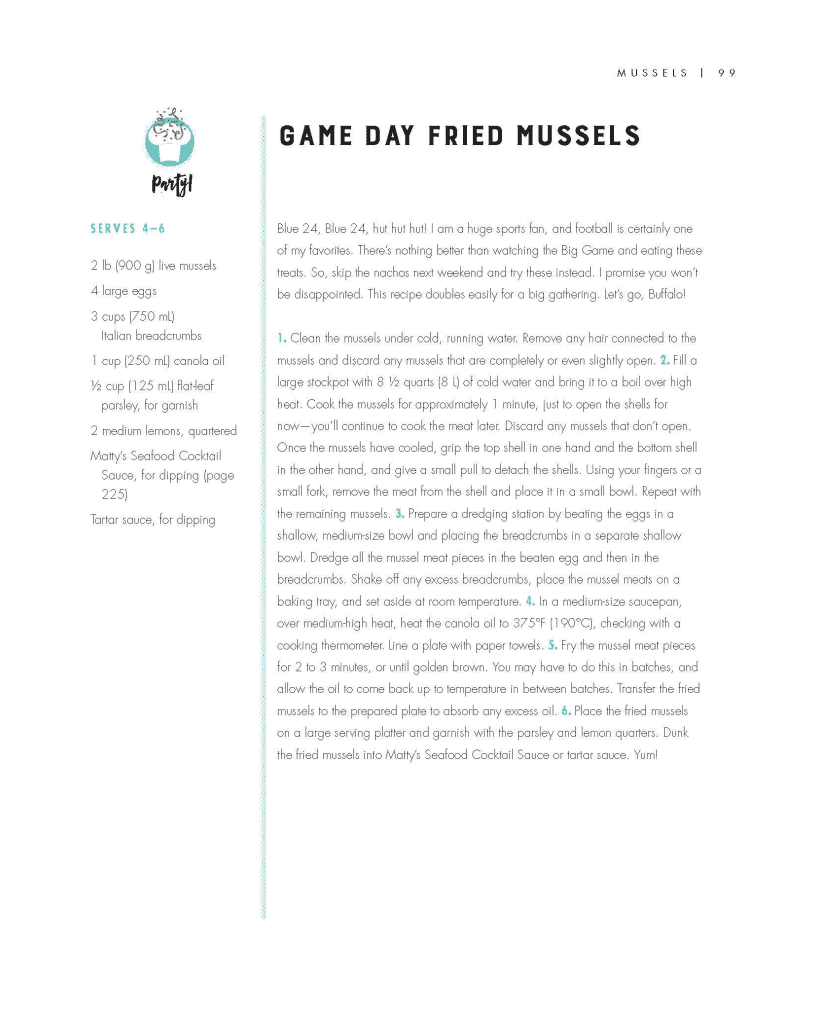 I'm a big fan of local comfort food, and was pleasantly surprised to see that PEI was specifically mentioned (Grilled Oysters, pg. 134). It was a nice remainder that the cookbook, puts an emphasis on local Canadian food, and most recipes actually mention various personal memories or experiences Matt has experienced around the country.
Tried and True
I received a copy of The Great Shellfish Cookbook the day before going on vacation with my family, and this gave me the perfect opportunity to:
a) read the cookbook cover to cover,
and
b) dream of all the delicious shellfish I was going to cook up once I got home!
I wanted to try out way to many recipes then I could talk about here in this book review, but I had to narrow it down. I wanted to pick two recipes that really showcased the books creativity, and the ease with which the recipes can be incorporated into anyone's weekly life. The first recipe I tried where the Grilled Shrimp and Pineapple Skewers (pg,178). The perfect finger food, and a deliciously light meal to enjoy on a summers evening.
Grilled Shrimp and Pineapple Skewers (Page 178)
While I wasn't able to find raw wild shrimp with head and all, I settled for the next best thing. Large 16/20 shrimp from a local seafood supplier. The 16/20 refers to the number of shrimp per pound. In this case there are 16 to 20 shrimp per pound. I find these to be a decent size, easily skewered, and big enough that the skewers are filling.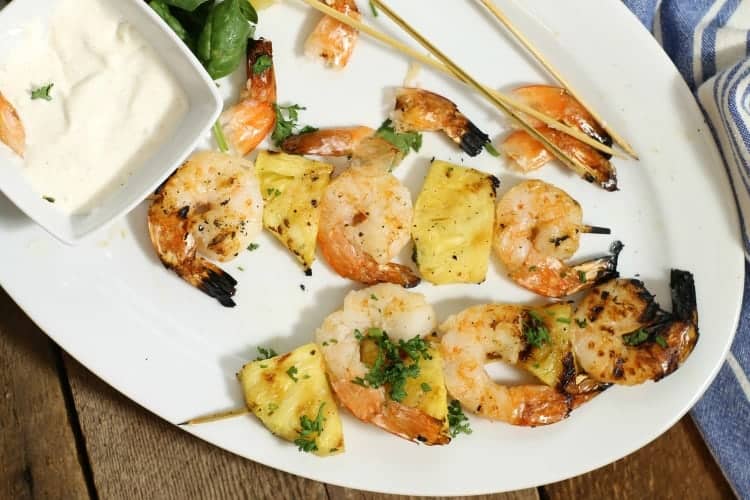 The recipe was easy to follow, with very clear and concise directions. I lacked the peanuts the recipe calls for and substituted parsley for cilantro,(my wife is not a fan of cilantro!), but followed the rest of the recipe to the letter.
As when making any skewers that are meant to be grilled, remember to soak the wooden skewers in water before using. This prevents them from burning. - Chef Markus
While the skewering of the shrimp and pineapple can take abit of time, especially if making a large batch of this recipe, this task is easily made easier by preparing all your mise-en-place before hand. Make sure your pineapple is cut into chunks, the shrimp thawed(if it was frozen), and de-veined, and the wooden skewers soaked.
Recipe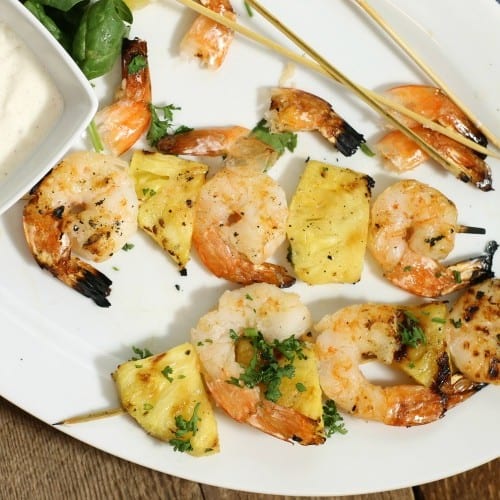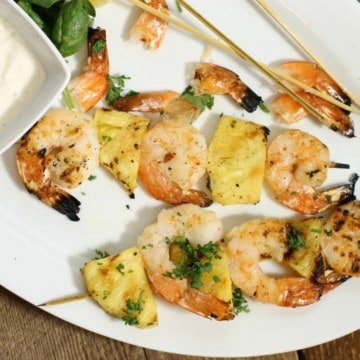 Grilled Shrimp and Pineapple Skewers (from The Great Shellfish Cookbook)
Slightly sweet and smokey, these grilled shrimp and pineapple skewers, make a great appetizer or light lunch recipe.
Ingredients
¼

cup

60 mL canola oil

12

Large

U.S. Wild Shrimp

peeled and deveined

1

Large

Pineapple

cut into chunks about ¾-inch (2 cm) thick

½

cup

(125 mL) plain 0% Greek yogurt

1

tablespoon

(15 mL) agave nectar

1

tablespoon

(15 mL) ground allspice

1

teaspoon

(5 mL) ground cinnamon 1 lime

cut into quarters

¼

cup

(60 mL) crushed unsalted peanuts

2

sprigs cilantro

stems removed and leaves roughly chopped
Special Equipment
8

metal or pre-soaked wooden skewers
Instructions
Preheat the BBQ to 375F. Dampen some paper towels with the canola oil and rub the grill grate so no food sticks to it.

Place one shrimp on a skewer, followed by a piece of pineapple. Repeat until you have three pieces each of shrimp and pineapple on a skewer, then make up the remaining skewers.

Place the skewers on the grill and cook for 2 to 3 minutes per side. Remove them from the grill and wrap them in aluminum foil to keep them warm.

In a small mixing bowl, combine the yogurt and agave nectar with the allspice and cinnamon. Mix well and transfer to a small serving dish.

Serve the shrimp on a platter, garnished with lime quarters, crushed peanuts, and cilantro. Don't forget the dip!
Notes
"Excerpted from The Great Shellfish Cookbook: From Sea to Table More than 100 Recipes to Cook at Home by Matt Dean Pettit. Copyright © 2018 Matt Dean Pettit. Photography copyright © 2018 Ksenija Hotic. Published by
Appetite by Random House®,
a division of Penguin Random House Canada Limited. Reproduced by arrangement with the Publisher. All rights reserved."
Nutrition
Nutrition info is auto-generated. This information is an estimate; if you are on a special diet, please use your own calculations.
Ideal as a light summer lunch or dinner, these grilled shrimp and pineapple skewers will also make the perfect appetizer or addition to a buffet or backyard BBQ.
Game Day Fried Mussels (Page 99)
A recipe that immediately caught my attention while browsing through The Great Shellfish Cookbook, was Matt's recipe for Game Day Fried Mussels. Working in restaurants I have spent my fair share of time battering various fish, and shellfish, but mussels has not been one of them. I've battered scallops, shrimp, crab, but never once considered making this super snack-able finger food!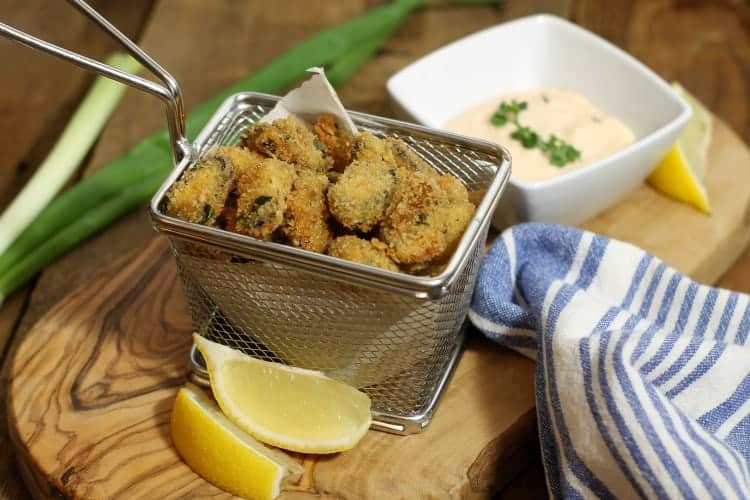 While these fried mussels are a little labor intensive, they are well worth the effort. I would recommend making a large batch of the recipe, and not doing any less then the four pounds as mentioned in the book. If you do less, it just doesn't seem worth it as you will only get one or two handfuls of these tasty little mollusks. Of course doing a large batch is more time consuming as you'll first have to wash and clean the mussels, and then cook and pick them, but enlist a friend or family member and this process will go pretty quick!
These fried mussels where so delicious, and surprisingly tender (despite being cooked twice), that even my two year old daughter absolutely loved them!!
Would I Buy It?
If you love shellfish or seafood of any kind, or simply want to learn how to cook shellfish better this is the book for you! Filled with creative and flavorful recipes that are easy to make, Chef Matt Dean Pettit provides a simple way for anyone to start eating more shell fish at home. I find I often get stuck in a rut, cooking the same things over and over. This beautifully designed cookbook, helps break that habit, and will challenge me to cook new and even some unusual recipe for my families supper rotation! Would I buy it? Absolutely!
Purchase the Book
You can easily purchase The Great Shellfish Cookbook through Amazon, or by checking it's availability at your local bookstore!
Author: Matt Dean Pettit
Paperback: 248 pages
Publisher: Appetite by Random House
ISBN: 9780147530578
Acknowledgement
'Recipes excerpted from The Great Shellfish Cookbook: From Sea to Table More than 100 Recipes to Cook at Home by Matt Dean Pettit. Copyright © 2018 Matt Dean Pettit. Photography copyright © 2018 Ksenija Hotic. Published by Appetite by Random House®, a division of Penguin Random House Canada Limited. Reproduced by arrangement with the Publisher. All rights reserved."