I received a copy of "Real. Good. Food." from Gabrielle at Eyecandypopper for review purposes but was not otherwise compensated for writing this review. All opinions are 100% my own. Some of the links in this post lead to affiliate sites through which Earth, Food, and Fire may earn a small commission (at no increased cost to you) should you make a purchase. For more info check the Affiliate Disclaimer.
Tired of eating the same foods week after week, or simply not happy with your diet and want to learn how to start eating healthy from scratch food made at home?! Simple organic meal ideas are the answer, and this ebook I am reviewing today provide just that.
In today's fast paced, and busy world, it is easy to forget to set aside time to take care of ourselves and have the energy to cook a healthy and delicious meal. It has become so easy to simply grab something from the freezer and pop it in the oven for 20 minutes or so.
The food industry is only fueling this trend by creating easier and less involved pre-fab items that are just heat and eat. The irony is that it usually doesn't take all that much longer to cook a good meal from scratch, especially once you have some practice in the kitchen and have basic food staples on hand. The downside to these easy to prepare pre-fab meals, is that they require numerous preservatives and additives to preserve their taste, and texture to achieve the same result as cooking the item from scratch.
The raw foods used in these products are usually grown on large commercial farms which use multiple synthetic fertilizers, pesticides, herbicides, and insecticides to increase yields. What happened to eating home cooked, naturally grown, nutritious foods just like our grand parents and great-grandparents did?!
There is a lot of misinformation about the term "organic" in today's society. Organic foods are the food that people have been growing and eating since the dawn of time. It should simply be called "food". - Gabrielle
eBook Overview & Introduction
The eCookbook Real. Good. Food. - Simple vegan and vegetarian recipes for everyday meals, aims to show you how to start eating healthy, organic, nutritious foods, made from scratch with whole ingredients.
Gabrielle, a certified holistic nutritionist (RHN), is the creator behind the popular food blog Eyecandypopper which is dedicated to mostly plant based, whole food, and seasonal recipes. While Gabrielle's blog and her eCookbook (avaliable in French & English) are focused on vegan and vegetarian recipes, she does on occasion eat locally sourced meat and dairy products.
Gabrielle describes how growing up in Canada as a teenager, she discovered a love for junk food and the convenience of processed and fast foods. This inevitably led to low energy, weight gain, and over all unhappiness with her current situation and eating habits, which in turn allowed her to discover and start researching how and where our food comes from and is produced these days.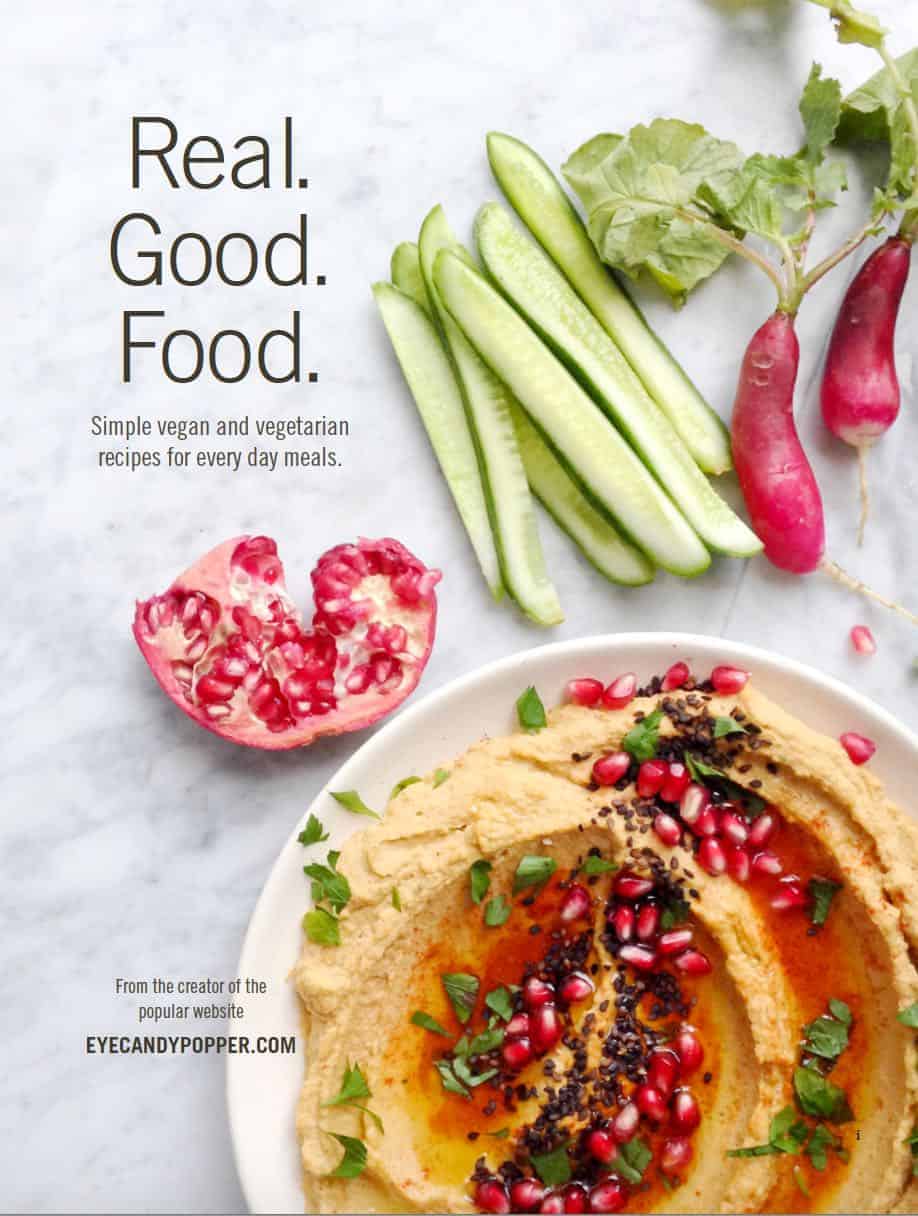 What she discovered shocked her, as it does most people who do a little digging on today's food industry and production methods (myself included when I first started cooking professionally). Many people are under the impression that food is produced a certain way and that it has always been done that way.
This is sadly not the case, especially in North America. After the Second World War, the food industry has really changed. Large scale production of food became more popular, as companies realized that new technologies (fertilizers, pesticides, farming methods), could create better yields and in turn larger profits.
While change and technology are not bad and are what makes us as humans successful, what they didn't realize at the time was how this new way of producing food would change our society, eating habits, and even our health in the future.
What was once considered normal, growing your own produce, buying meat, dairy, and seafood locally, and eating from scratch cooking at home, fell out of fashion. It became easier and cheaper to go to the grocery store and buy your food.
With 40 easy to follow recipes, Gabrielle explains what healthy eating (and organic) actually means in today's food filled world, and how to stock a pantry to start changing your eating habits. It doesn't have to happen over night, and she encourages making slow changes to ensure the process of starting to eat clean is not overwhelming.
Simple Organic Recipes
Gabrielle provides and walks you through 40 organic meal ideas, to help you start eating healthier, and plant based meals all day long. With individual recipe sections for:
Breakfast
Lunches & Dinners
Desserts & Baked Goods
Drinks
Snacks
The recipes are easy to follow and very well detailed, with short descriptions and bits of culinary knowledge for the various ingredients used. You may even be surprised to learn that if you already do cook regularly, you will probably have many of the items already on hand! Otherwise the section on stocking a pantry (page 24) will be very helpful in giving you a sense of what to look for when out grocery shopping.
The layout of the book is intuitive, and easy to follow for anyone, regardless of their skill level in the kitchen. Real. Good. Food. makes it clear that eating healthy does not mean giving up eating delicious foods or eating the same boring foods day in and day out. Cookies for breakfast (page 39)? Why not! Filled with fiber, and various vitamins and minerals, they are an easy, (and best of all healthy) start to your day! Even desserts have a healthy twist, but don't let that fool you into thinking the recipes are not indulgent. Try the Pumpkin Chocolate Pound Cake (page 80), or the Vanilla Cupcakes (page 79) for your next home baked good!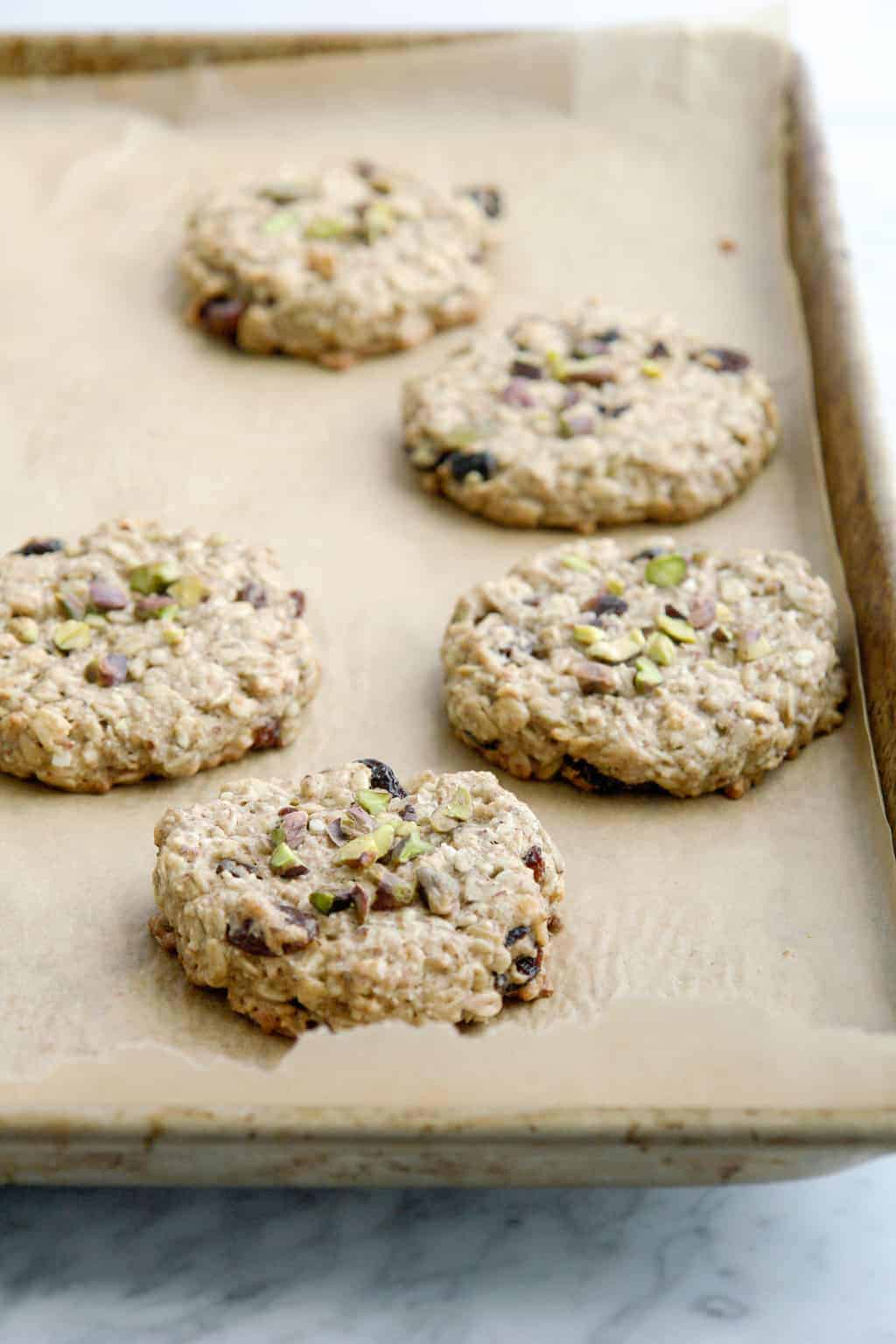 Tried and True Organic Recipes
Chefs and cooks are constantly tasting and trying food while at work. This has instilled in me a love for munching on a little bit of this and a little bit of that. So of course the recipe section on snacks (page 100), was one of the first sections I flipped to. How could I start snacking in a healthier way? Energy Balls (page 105) and Spiced Curry Nuts (page 106) were the only two "snack recipes" with traditional instructions and layout, but Gabrielle includes a great DIY Trail Mix guide, with ideas and tips on how to create a personal blend.
After working my way through the rest of the book though, I found an awesome Sweet and Spicy Hummus recipe (page 54) in the Lunches & Dinner section, which was an immediate hit with the entire family, (especially my 14 month old daughter who couldn't get it into her fast enough). The Goat Cheese Tartine 4 Ways (page 64) is also found under Lunches & Dinners, but I would totally snack on those any time of the day!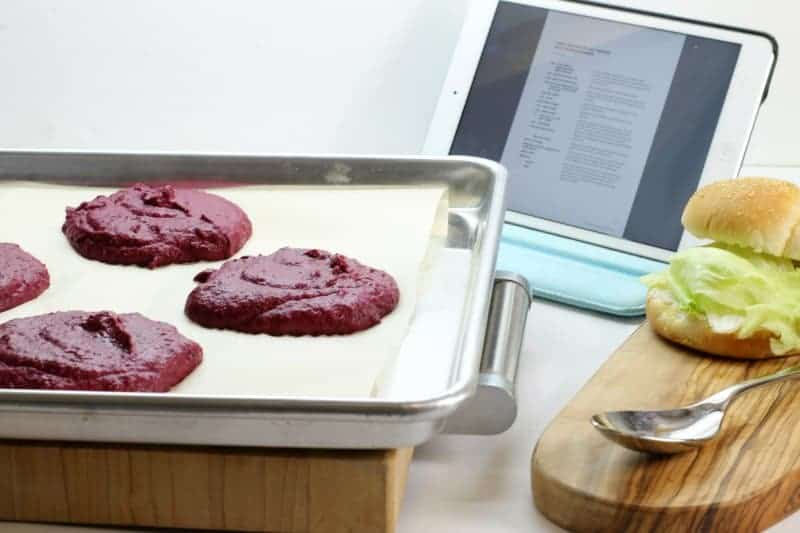 Besides snacks though, I really wanted to try a full on vegetarian recipe for supper. In our house we eat a fair amount of meat, and one of the easiest ways how to start eating healthy at home is by cutting back meats and introducing more plant based meals. Slow changes though right!? This e-book has made that problem go away, as I now have a full collection of recipes that are filling and suitable for a hungry family any night of the week. I thought I'd start with the Simple and Healthy Beet Burgers (page 73). The picture itself made me want to try this burger, as the color of the purple patty, while different than usual, really caught my eye. As a chef I'm all about color on the plate!
The Beet Burger recipe is easy to follow and surprisingly no more work then a regular burger would be. After blending and mixing all the ingredients together, you simply spoon out and form the patties. These could easily be made ahead of time, and I plan on freezing a batch to keep on hand for a quick and healthy weekday lunch or supper.
The beet burgers only take about 15 minutes to cook once formed. I was a little surprised at how soft the patties where after coming out of the oven, so I ended up cooking them for another 3 or 4 minutes (as the recipe suggests) to try and firm them up a little more. The patties where still a little soft, and squished out the side of the burger when biting into it, but the flavor sure made up for this little discrepancy! Even my wife who normally tells me, "beets taste like dirt", enjoyed the burgers and said that they tasted really good!
I'm not sure if the softness of the patty has something to do with the canned beans I used, juicier than normal beets, or what, but the next time I make them I may add a little more rice or beans to the recipe to try and create a firmer texture.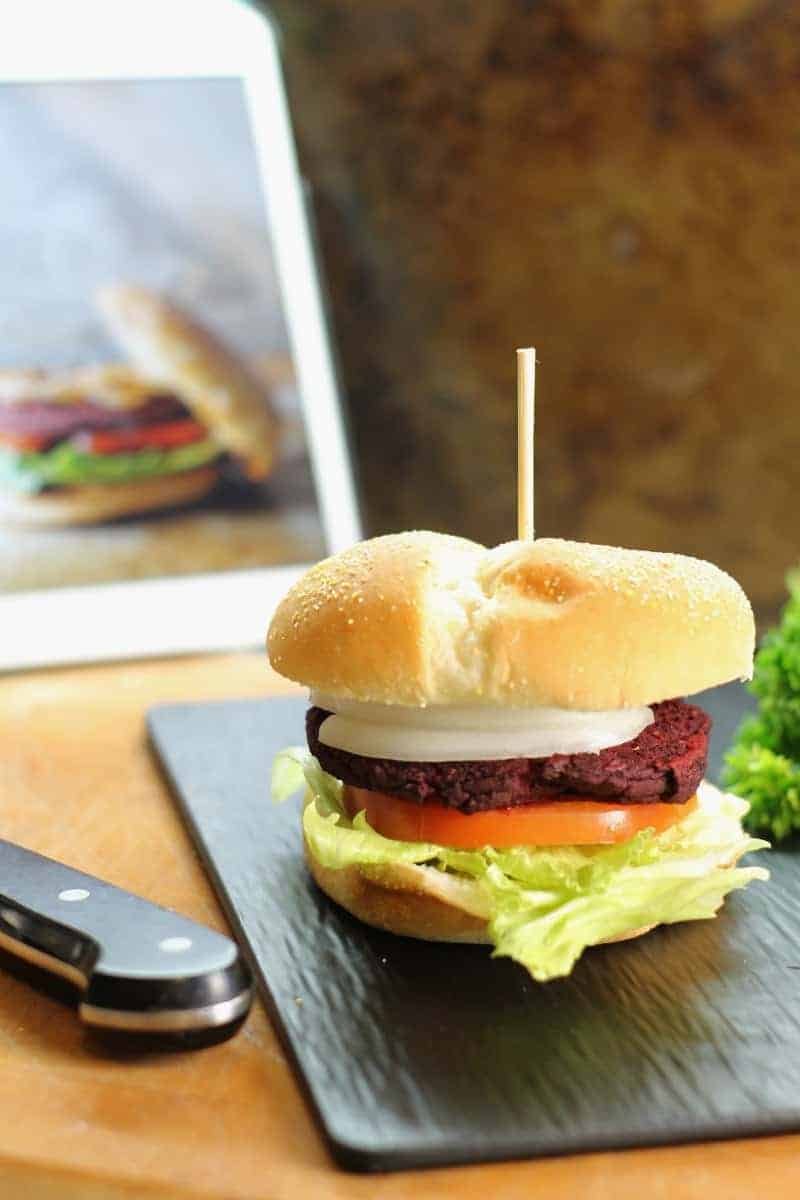 I was blown away by the amount of flavor in both the recipes I tried, and how true to form the end product was to the photos in the cookbook! I find this is often an issue where cookbooks get your hopes up with the tantalizing pictures, but the end product doesn't look the same. Not so with Real. Good. Food.!
Would I Buy It?
Too often we buy a cookbook we see on a fancy display at the bookstore, only to have it sit on our bookshelf after having tried only a few recipes. This being the first full eCookbook in my collection, I am thrilled with how accessible the organic meal ideas and recipes in this book have become. I can easily pull up the book on my phone, and find out what I need to stock up on for tonight's meal while at the store or on my way home from work.
The stunningly, delicious looking illustrations of the recipes, make it easy to decide what to prepare, and tempt you to try them all! With easy to follow instructions, well thought out recipes, and pictures that are true to the end result, this cookbook is the perfect addition (or start of a collection) for anyone looking start eating healthier organic food at home.
At less than half the price of a traditional bound cookbook, Real. Good. Food. provides you with 40 organic meal ideas to help you change the way you eat and think about food. The eCookbook also comes with two printable bonuses! A Dirty Dozen List and Healthy Pantry List to ensure you have a fully stocked kitchen.
Would I buy the eCookbook Real. Good. Food.? Yes I would!
Real. Good. Food.
Simple vegan and vegetarian recipes for everyday meals.
First Edition 2016
Author: Gabrielle Gottschalk, RHNTM Holistic Nutritionist
ISBN (PDF): 978-0-9949996-0-3.
Enter The Giveaway To Win A Copy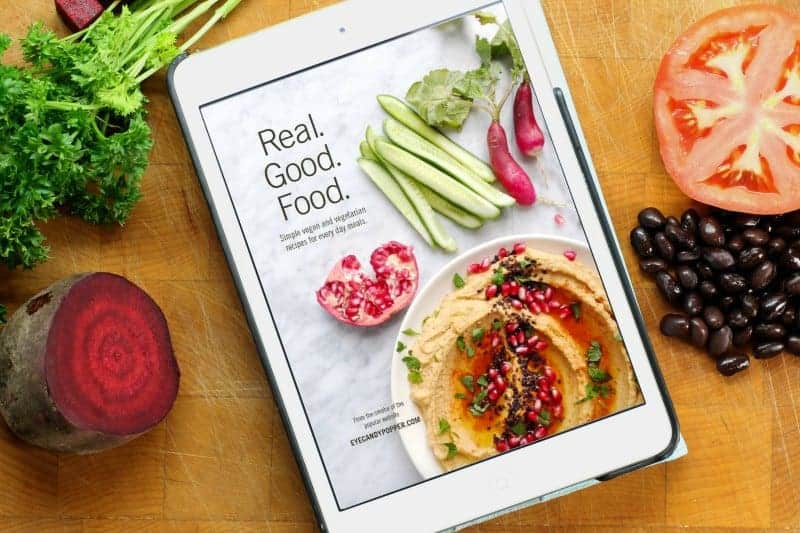 a Rafflecopter giveaway
To be eligible to win a copy of "Real. Good. Food.' by Gabrielle Gottschalk from Eyecandypopper, and learn how to start eating healthy, organic foods at home, you must enter the contest with a valid e-mail address . You may un-subscribe from the Earth, Food, and Fire Newsletter at any time after the contest closes.