When it comes to quick and easy meals on a weeknight, cooking from scratch at home does not have to mean spending countless hours in the kitchen. Half an hour is usually all that is, (roughly) needed to put together a healthy, filling, and nutritious meal. Chicken sheet pan suppers are a good option, but you can easily make other favorite comfort foods as well. Kase Spaetzle as it's known in Germany, Austria, and Switzerland, is a popular noodle dish often served in casserole form. Ideal on a cool fall evening or after a day of skiing, it is essentially a homemade Mac & Cheese recipe!! You'll get the best results if you use homemade spaetzle noodles, but store bought ones may be substituted if you wish. I make my spaetzle, (or spätzle) noodles from scratch the night before, and then simply assemble this cheese spaetzle recipe and pop it in the oven to bake!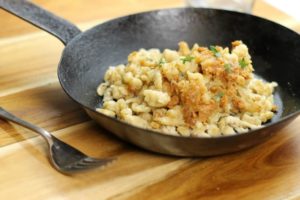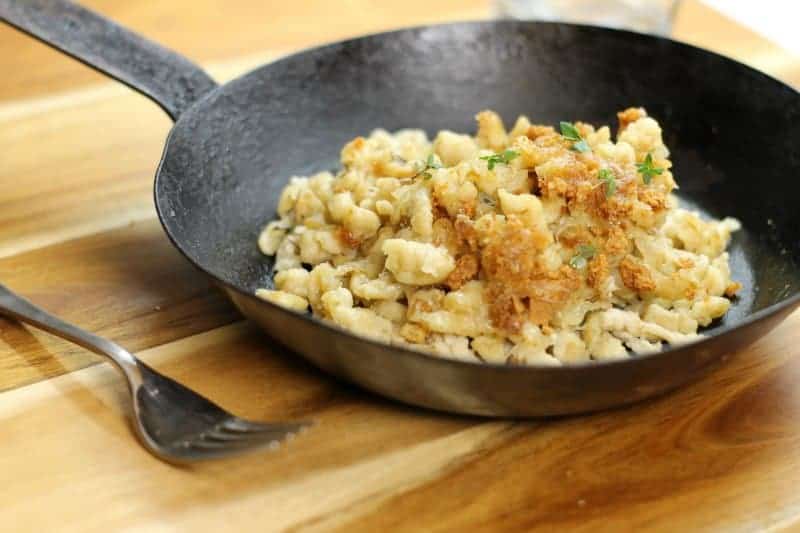 This post contains affiliate links for which I may be compensated if a purchase is made through the links provided. For more information please read my affiliate disclosure.
Caramelizing Onions
Käse spaetzle are served in many restaurants, pubs, and mountain chalets, as a quick and filling meal. Traditionally this spaetzle dish is served with caramelized onions and topped with Emmental Cheese,(though any cheese may be used) and breadcrumbs before being baked in the oven. If you have never caramelized onions before, doing so is very easy! You could even just used fried onions instead if you prefer a crispier texture! True caramelized onions are velvety soft, and deliciously sweet, making them the ideal addition to offset the sharpness of the cheese! The instructions here make roughly one cup of caramelized onion.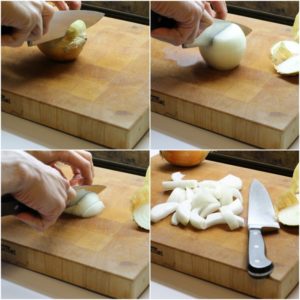 To caramelize your own onion, roughly Julianne the 4 onions into thick strips. Most people make the mistake and try to caramelize the onions over to high of a heat, causing the onion to stick to the bottom of the pot and creating a bitter flavor. To avoid this fill the pot with the Julianne onion, and cover the pot with a lid while cooking over medium heat.
Keeping the moisture from the cooking onions in the pot, prevents them from scorching and increases the internal temperature which is needed to caramelize the natural sugars present in the onion. Cook the onions like this for about 15 minutes, until they start to turn translucent. Stir the onions to make sure they are not sticking as they caramelize, and then put the cover back on and keep cooking for another half hour.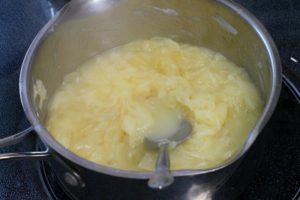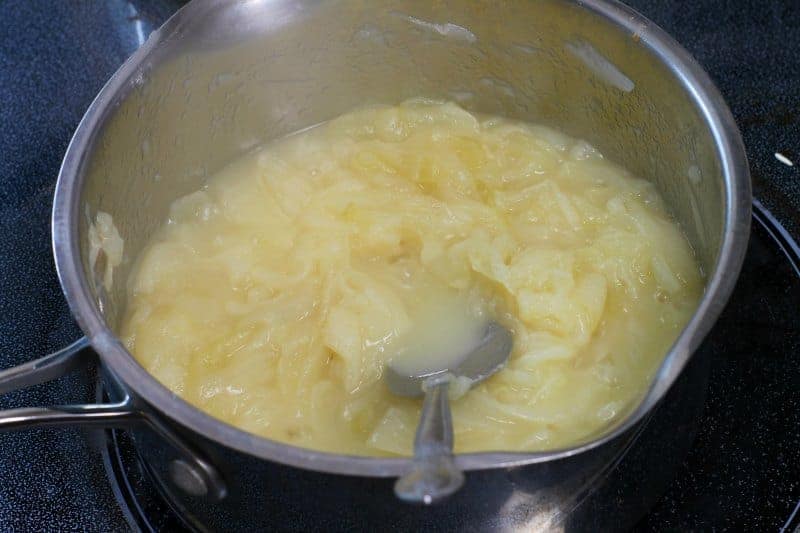 At this point you will notice that the onions have started to caramelize and turn a brownish color. Remove the lid and keep cooking the onions uncovered to remove excess liquid. Keep an eye on the pot for the last 15 minutes of cooking to prevent the caramelized onion from scorching! Cool the onions when finished, or use right away in the following kase spaetzle recipe.
Homemade Käse Spaetzle
If you do take the time to make these käse spaetzle from scratch you will be blown away by the depth of flavor the combination of caramelized onions and Emmental cheese create. To make this recipe you'll need:
1 batch of homemade German spaetzle made with a spaetzlehobel(affiliate link), or a package of store bought spaetzle
1 cup of caramelized onions (as described above)
4oz shredded Emmental Cheese
1/2 cup bread crumbs
1 tbsp butter or oil
Herbs to garnish (optional)
To make this easy käsespätzle recipe, make your own spaetzle from scratch, or cook a package of store-bought ones.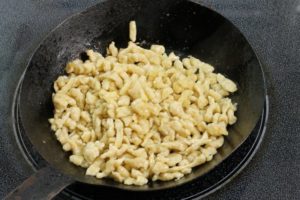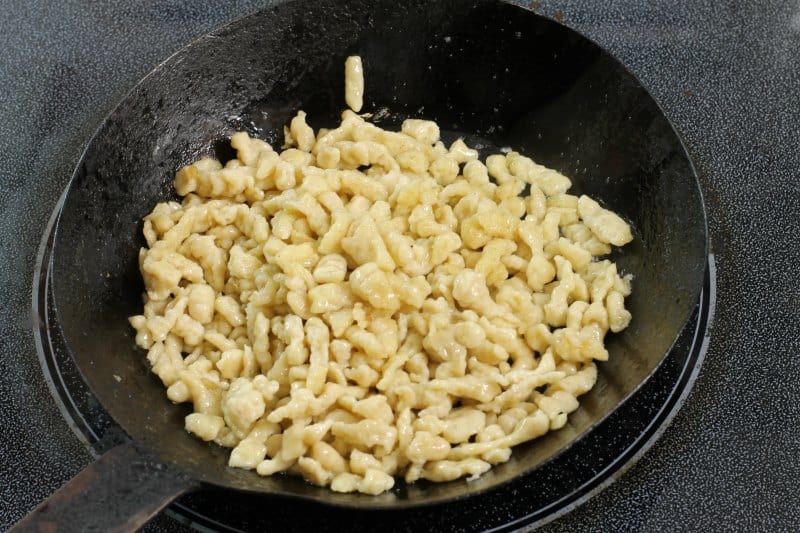 It's best to make the spaetzle the day before , which makes the spaetzle easier to fry in a pan. Otherwise let the spaetzle cool a little and melt the butter in a pan. Add your spaetzle noodles to the pan and lightly fry them until the start to turn a light golden color. Note: This is an optional step, and the spaetzle noodles can simply be mixed and baked with the caramelized onions and cheese without frying first.
Add the caramelized onions to the pan, and give the pan a quick toss to mix everything together. Season the kaesespaetzle with salt and pepper. You can serve the kaesespaetzle right away, making sure to top the dish with cheese and herbs. If going the casserole route, mix the pan fried spaetzle noodles with half the shredded Emmental cheese and caramelized onions. Top the dish with the remaining cheese and sprinkle with breadcrumbs.
Bake the kase spaetzle casserole in a pre-heated oven at 375F for 10 minutes or until the cheese is melted.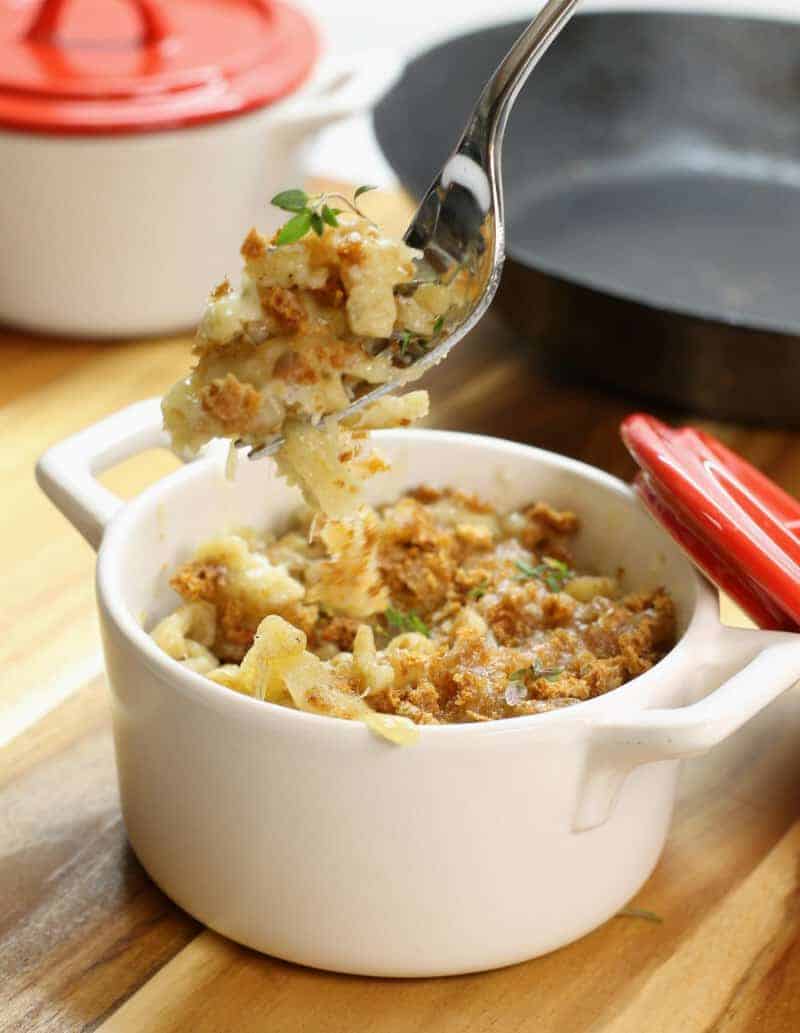 That's it! While the recipe may sound complicated, it really is quite straight forward. Simple cook your homemade spaetzle and caramelized onions the night before for quick assembly the following day!
Tried the recipe? Take a picture and tag me on Facebook & Instagram: @earthfoodandfire . For more from scratch recipes follow me on Instagram & Pinterest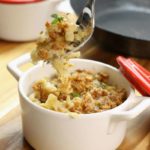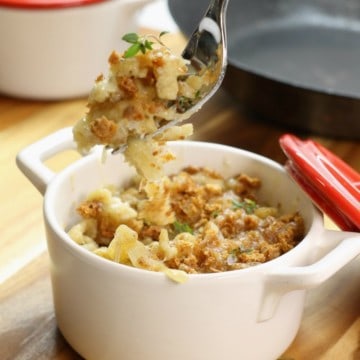 Käsespätzle with Caramelized Onions – The Ultimate Mac & Cheese
German käsespätzle also known as cheese spaetzle, is an easy to make noodle dish loaded with Emmental Cheese.Basically a fancy Mac & Cheese!
Servings
:
2
kaesespaetzle casseroles
Ingredients
1

batch of homemade German spaetzle or a package of store bought ones

1

cup

of caramelized onions

as described above

4

oz

shredded Emmental Cheese

1/2

cup

bread crumbs

1

tbsp

butter or oil

Herbs to garnish

optional
Instructions
Cook the spaetzle as indicated in the recipe, or on the package and pre-heat your oven to 375F.

In a pan with butter, fry the cooked spaetzle noodles until lightly golden brown.

Mix the fried spaetzle with the caramelized onion and half the Emmental cheese. Portion into two casserole dishes and top with remaining Emmental cheese and bread crumbs.

Bake the käsespätzle for 10 minutes or until the cheese has melted on top.

Garnish with fresh chopped herbs such as parsley and serve!
Recipe Notes
The cooking times do not include the time required to caramelize the onions, or to make spaetzle from scratch. It only accounts for the assembly and baking of the käsespätzle casserole.
© 2017 – 2018, Markus Mueller | Earth, Food, and Fire. All rights reserved. Please contact Earth, Food, and Fire, if you wish to use any media or other content contained on this site.