Last Updated on
One of my favorite traditional German dishes, spaetzle are probably the easiest "noodle" recipe I know. On top of that, this German spaetzle recipe takes only twenty minutes to prepare!
Spaetzle noodles, sometimes are also called Knöpfle, or Chnöpfle, depending on which region of Germany or Switzerland you are in. They are a soft egg noodle, (almost like a mini dumpling) that are traditionally found in the south-western region of Swabia (the Bavaria and Baden Wurtemburg region), in Germany and are considered a specialty there.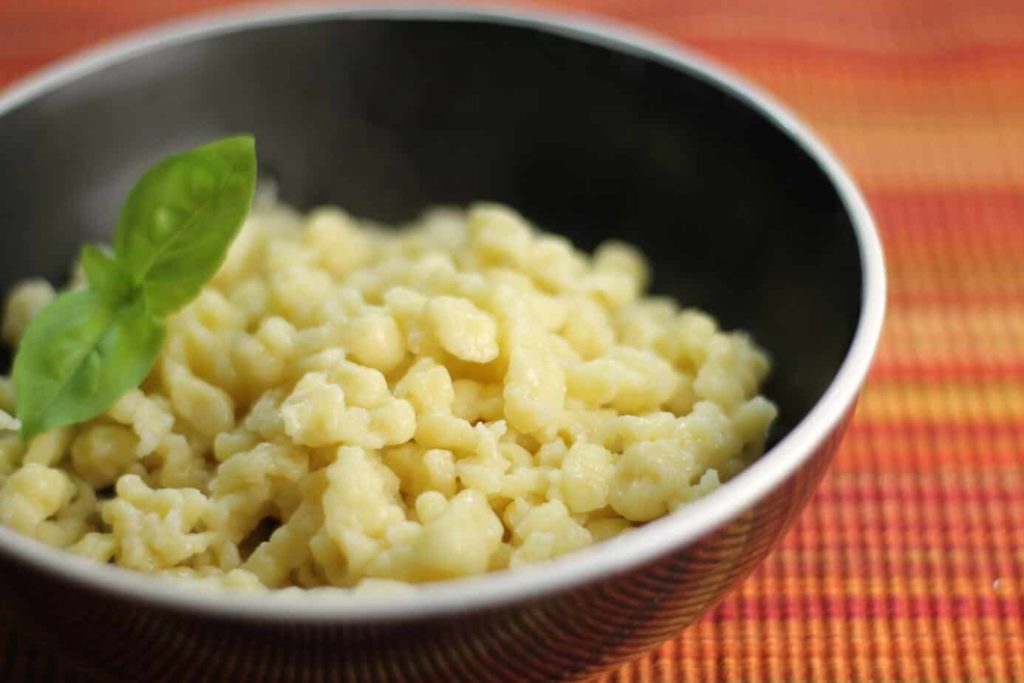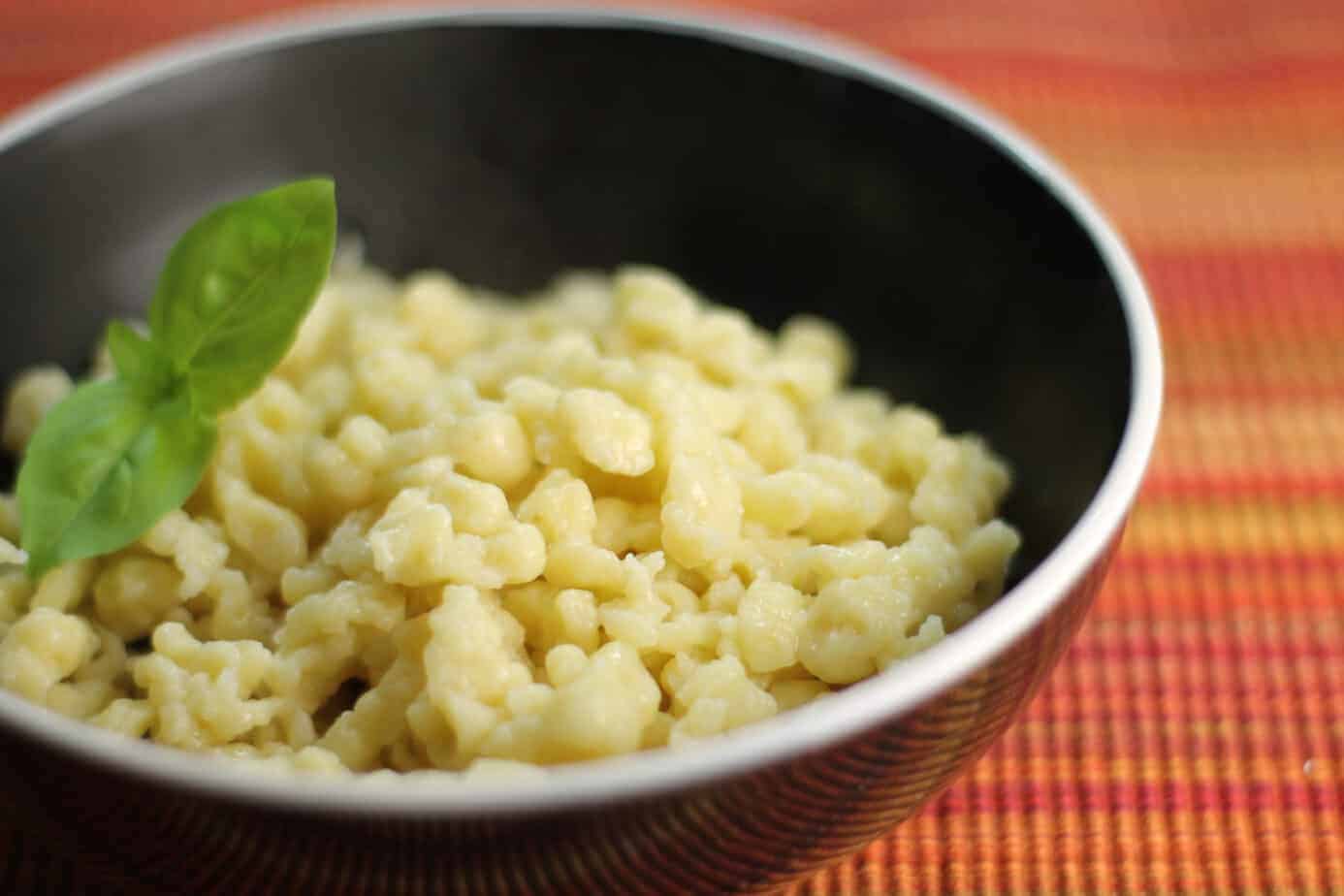 This post contains affiliate links for which I may be compensated if a purchase is made through the links provided. For more information please read my affiliate disclosure.
An Authentic German Spaetzle Recipe
There are generally three different ways to cook spaetzle noodles at home, each variation stemming from a different region where they are first made. I am going to focus on only one way to do them here, as it is the easiest to do at home even if you have never made noodles (of any kind) in your life.
One of the reasons that I love spaetzle is that the noodles themselves are so versatile. They can be served on their own, simply pan seared in butter with a bit of fresh garlic, or turned into a mini casserole and baked in the oven with various ingredients. (My favorite is the traditional Swiss spätzle pfanne, caramelized onions mixed with the pan seared spaetzle topped with cheese and then baked.
Spaetzle store very well in the fridge in an air tight container for future use, and are ideal for meal prep when cooked in batches.
To make these German spaetzle you will need:
250 grams of all purpose flour
3 whole eggs
1 teaspoon of salt ( I used fresh ground sea salt)
60 ml of water
That's it! Pretty simple eh!?
While you are measuring out your ingredients it is a good idea to put on a large pot of water. This way you can multi-task and it will be boiling by the time you finish mixing the dough. As any chef is taught to do you should also salt the water, though not quite as heavily as you usually would, since the spaetzle are fairly delicate and we don't want them to turn out salty.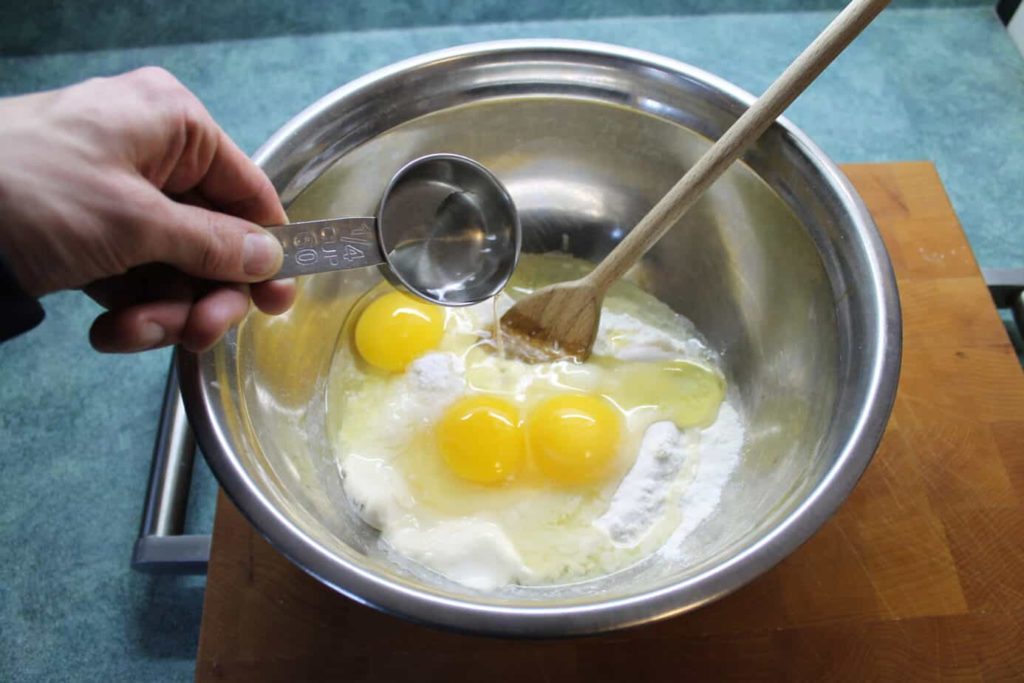 Mix all your ingredients in a medium sized bowl, and mix them very vigorously with a wooden spoon or spurdle.
If you find that the dough is too dry you can add another little splash of water. I've added roughly another 30ml of water to my dough. Whether you will need to add more water or not can depend on the size of the eggs you used, and the measuring cup you used to measure the water, as not all measuring cups are created equal!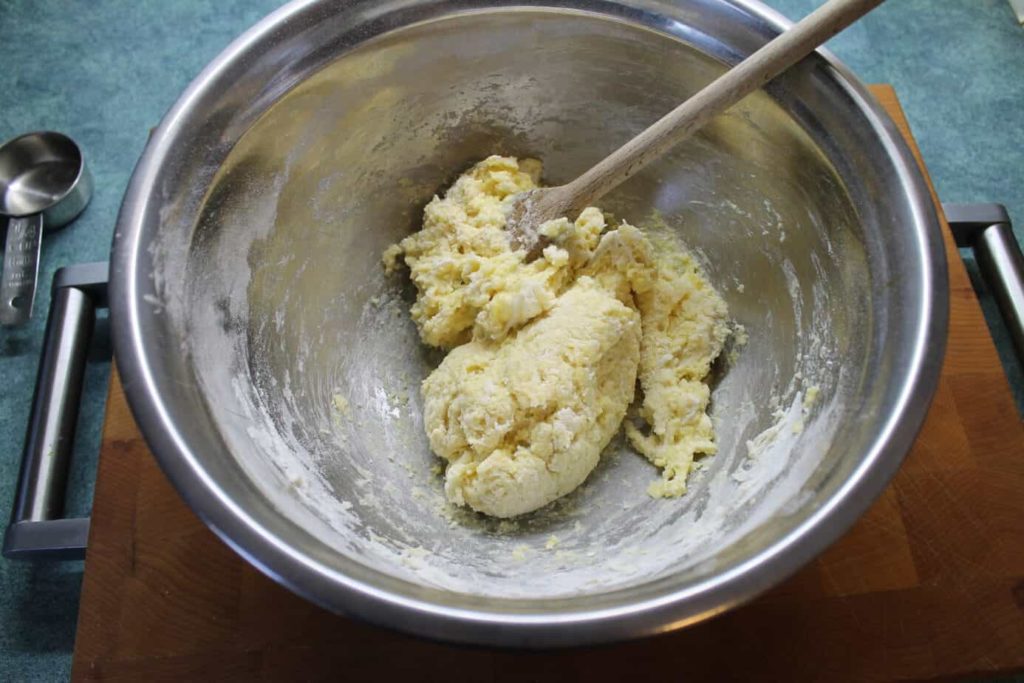 The dough is ready to use when it is smooth, and drops of the wooden spoon in large clumps. It is ok if the mix is a little thicker, this will simply result in a denser and less fluffy noodle. This is something you can adjust in future, depending on your preference.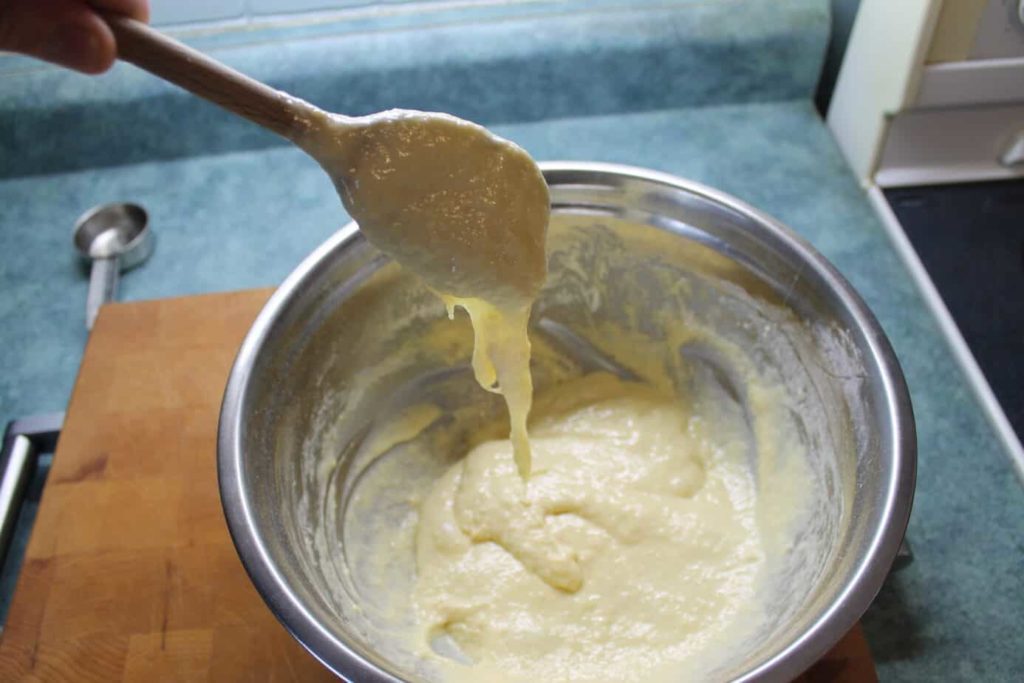 How To Cook These Traditional German Spaetzle
As I mentioned above there are three different methods to cook spaetzle. For two of them you do not need a "spaetzle maker"(affiliate link)!
One is putting the dough in a handheld pasta extruder, which will result in longer spaghetti-like noodles.
You could also place some of the mix on a cutting board and with the help of a small wet-ed palate knife or spatula, push/cut small sections of the dough into the boiling water.
And finally you can do it with a colander, (or perforated pan) that has large holes in it, and press the dough through the holes. Traditionally you would use a spätzlehobel(affiliate link) also known as a spaetzle-maker, but lacking that you can improvise as I have with the perforated pan.
This is by far the easiest method!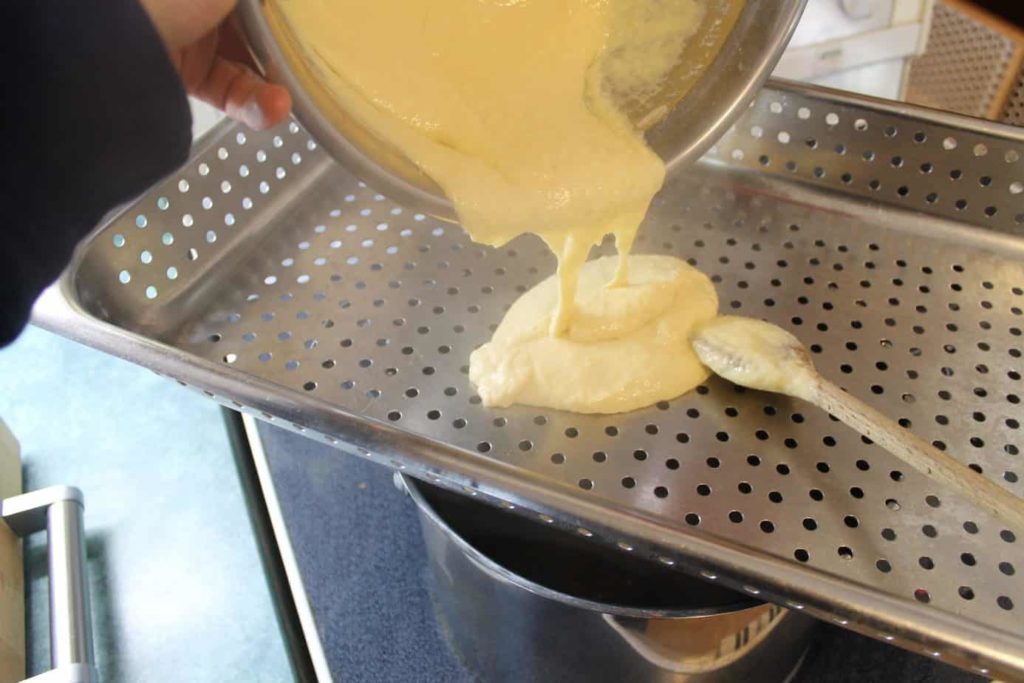 Once the water is boiling, the spaetzle are pushed through the colander (or a spätzlehobel) right into the boiling water. It's easiest to use a plastic bench scraper for this but a rubber spatula will work as well.
You will know the spaetzle are done when they float to the surface. At this point you want to take them out of the water either with a slotted spoon or a sieve so that they do not overcook. For this reason it's best to boil the noodles in smaller batches.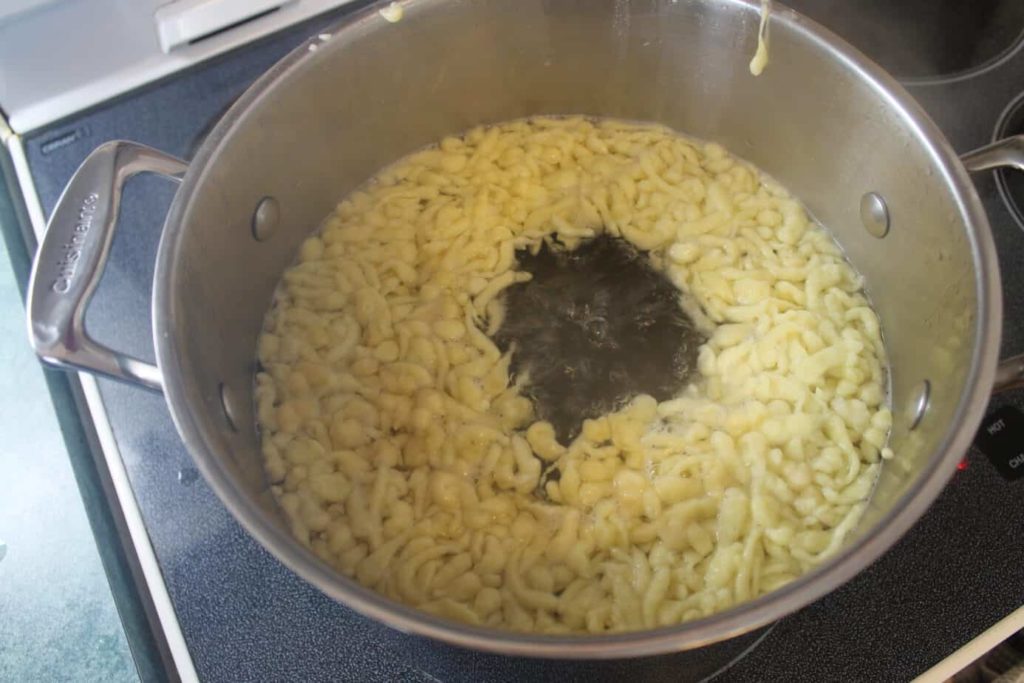 Once the noodles are cooked, you can serve them right away with whatever toppings you choose, or cool them down and use them later. If you plan on pan frying them, cooling them first works well, because they absorb any excess water clinging to them and will not stick to the pan once you fry them.
This traditional German spaetzle recipe is one I use on a regular basis if I am in need of a quick supper, and a recipe I made often while a student in school. The spaetzle noodles keep extremely well and can be kept in the fridge for up to a week. This makes them the perfect item to have on hand to turn into a quick chicken casserole, pan fried dish with caramelized onions and cheese, or simply re-heated in some boiling water and tossed in tomato sauce.
If you liked this classic German dish, make sure to try this Caramelized Onion Tart recipe or my Hearty German Goulash! Let me know in the comments below how your spaetzle turned out and if you incorporated them into any other dishes!
Made the recipe? Comment & Rate it below, then take a picture and tag me on Facebook & Instagram: @earthfoodandfire . For more from scratch recipes follow me on Instagram & Pinterest
Traditional German Spaetzle Recipe
This German spaetzle recipe takes just 20 minutes to prepare, and is a great entry level noodle recipe. Make them from scratch and enjoy authentic German food at home any day of the week!
Ingredients
250

grams

of all purpose flour

3

whole eggs

1

teaspoon

of salt

I used fresh ground sea salt

60

ml

of water
Instructions
Begin by measuring out all you ingredients, and putting a pot of salted water on the stove to boil.

Sift the flour, and mix in the salt. Crack the eggs into the flour and then add all 60ml of water. Mix really well with a wooden spoon or spurdle until the dough reaches a smooth slightly runny consistency. If the dough is to dry add slightly more water until the dough reaches the desired consistency.

Using a colander, perforated pan or spatzlehobel, push the dough into the boiling water, creating mini spaetzle noodles. The noodles are done when they float to the surface.
Some of the links in this post lead to affiliate sites through which Earth, Food, and Fire may earn a small commission (at no increased cost to you) should you make a purchase. This allows us to stay online and keep creating awesome content! For more info check the Affiliate Disclaimer. All recipes, and opinions are 100% my own.