If You have had the good fortune to try fresh German sauerkraut, you'll know it is crunchy, slightly acidic, yet sour, and full of flavor. Nothing like the canned stuff you buy in glass jars at supermarkets here in North America.
Luckily, making sauerkraut at home is incredibly simple, and doesn't require much in the way of supplies, or ingredients. You actually only really need two ingredients!
This post contains affiliate links for which I may be compensated if a purchase is made through the links provided. For more information please read my affiliate disclosure.
What Is Sauerkraut Eaten With?
Growing up with a German background, I was inevitably introduced to sauerkraut by my father who loves the stuff and will eat it on anything! It goes to show just how versatile good sauerkraut can be, especially when eating on a budget, or wanting to preserve cabbage you grew in your own back yard.
Sauerkraut can be eaten cold on sandwiches (think in a bun with a Oktoberfest Sausage), as a side to a hearty meal, or simply on it's own for a refreshing and healthy snack. It can also be eaten hot, and is delicious sauteed with onions and bacon, creating a slightly sour vegetable side dish great with a pork roast, or red meat!
What Is Lacto-Fermentation?
By using one of the oldest methods of preserving food, anyone can make this healthy recipe at home. Lacto-fermentation is the star of the show in this recipe. Thousands of tiny live little beneficial bacteria (specifically Lactobacillus), do all the hard work converting the natural sugar present in cabbage, into lactic acid creating an environment void of bad bacteria.
Lacto-Fermentation has been used for thousands of years to naturally, and safely preserve foods, and increase your overall health. A battle between good and bad bacteria, lacto-fermentation uses only three ingredients to do its job:
Salt
Water
and your vegetable of choice.
Almost any vegetable can be fermented in this way, preserving it's taste, texture, and increasing the bio-availability of natural vitamins and minerals you would not otherwise get in your diet.
How Does Lacto-Fermentation Work?
First the cleaned vegetable of choice is packed with salt in a non-reactive container (such as specialized glass jars, or in a specialized stone crock (affiliate link)), creating an environment deadly to bad bacteria. These bad bacteria would otherwise spoil food and make us sick if they where allowed to multiply. The salt helps draw out the natural water in the present in the vegetable creating a brine in which the fermented food is kept.
When fermenting some larger vegetables such as carrots or turnips, brine is added to the fermentation container, to ensure all the produce is submerged and not exposed to the air which is again filled with bad bacteria. After all the bad bacteria have died off, live Lactobacillus bacteria which is naturally present in most foods, gets to work, converting the natural sugars into lactic acid, thereby preserving the vegetable.
The great thing about this type of natural fermentation is that it does not destroy any nutrients in the vegetable itself, creating a nutritious fermented product full of vitamins, pro-biotics, and enzymes beneficial to your health.
The process of lacto-fermentation can take anywhere from 10 to 20 days to complete depending on the temperature the fermentation container is kept at. In warmer conditions the bacteria will work faster then in cold temperatures. While the fermented product will essentially always keep fermenting once the desired acidity is achieved, the fermented food is usually placed in a cold or refrigerated spot to stop the fermentation process once the desired taste is achieved.
So How Do You Make Sauerkraut At Home?
To make your own German Sauerkraut you only need two ingredients: Salt and Cabbage. Any cabbage can be used, but in general regular green cabbage is the most commonly used variety. (I now want to try a red sauerkraut for fun!)
For this batch of sauerkraut (which fits in a 1.5L glass mason jar), I used:
1 large head of green cabbage (Roughly 2kg or 4.5lbs of cabbage)
2 tablespoon of salt (make sure the salt is iodine free, pickling salt is my go to option.)
Optional: I add 1 shredded carrot to my cabbage mix to add some color to my sauerkraut!
Step-By-Step Instructions
Start by removing the core of the cabbage. First cut the head of cabbage in half, and then into quarters. I have found this to be the easiest way to remove the core. Cut out the core sections and remove any outer leaves which may have black spots or look damaged.
Now for the 'hardest' part of making sauerkraut at home, you need to cut the cabbage into small strips!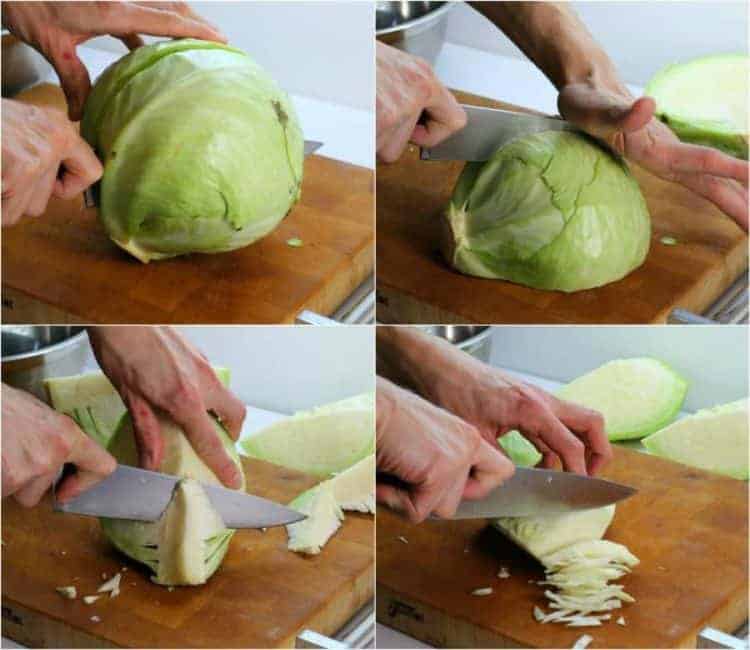 The easiest way to 'shred; the cabbage for homemade sauerkraut is to separate the quartered cabbage into "stacks" and then, using a very sharp chefs knife julienne the cabbage. The cuts don't need to be perfect, but you do want the cabbage to be somewhat uniform in size. This helps create a more appealing texture and easier to eat end product!
Once all of the cabbage is cut to your satisfaction, dump it all into a large bowl or bucket. This is not the final container you will ferment/store the sauerkraut in.
Mix in the 2 tablespoon of pickling salt and properly mix it in with your hands. At this point in the process, many recipes will call for adding water or brine, but this is unnecessary, and I find simply dilutes the flavor of the sauerkraut. While it is correct that you do need liquid to submerge the cabbage in, you can extract the natural water present in the cabbage by pounding it. The pounding action and the salt work together to release the water creating the brine needed to lacto-ferment the sauerkraut.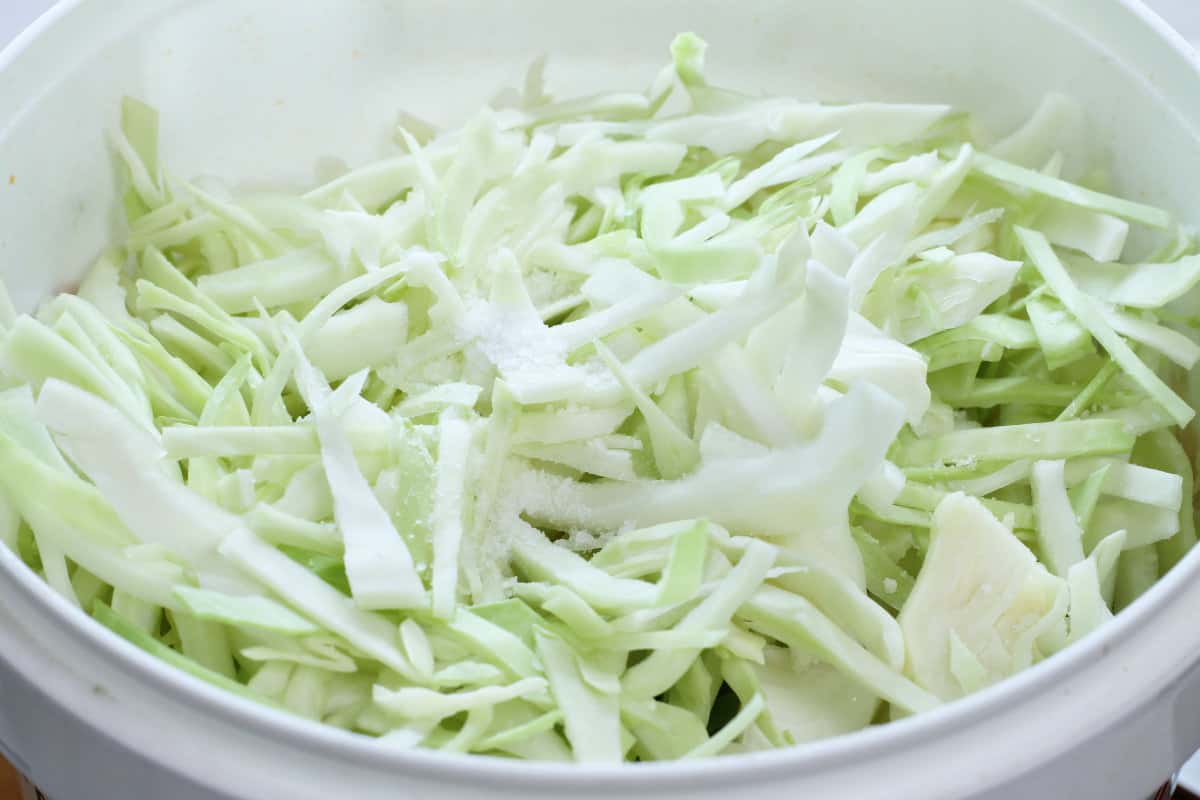 You can use a specialized tool called a pickle packer (affiliate link), fashion your own stamper out of wood, or use anything else you may have around the house as long as it's cleaned first of course! I have in the past used an empty wine bottle( though I must admit I was worried of it breaking), and as you can see in the pictures here a meat mallet does a fine job!
While cutting the cabbage may be the "hardest" part of this, pounding the cabbage, is the most time consuming part. Expect to stomp your cabbage and salt mixture for a good twenty minutes before you have enough liquid to submerge the cabbage in. You will know you are done stomping when you can push the cut cabbage down and the liquid brine rises up covering the surface of the cabbage.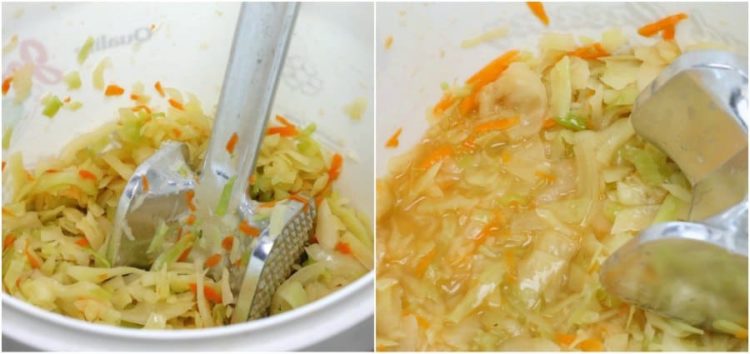 You'll notice in the above image that I have added a shredded carrot to my cabbage. I like adding one carrot in to add color and some visual appeal. It will not noticeably change the flavor of the sauerkraut. - Chef Markus Mueller
Once the cabbage can be pressed down and submerged under it's own liquid, the hard part is done. Pack the sauerkraut into your final fermentation jar or vessel, and weight the sauerkraut down to keep it submerged in the liquid brine. As I generally make small batches like this one (instead of 20L at a time as you would in a large stone crock), I use a clean glass bottle filled with water as my weight. Wine bottles work great and just fit inside of the mouth of the 1.5L Mason Jar.
Cover the fermentation container with some cheesecloth(I wrap the around mouth of the mason jar) to keep out any dust or other debris which may fall in as the cabbage sits to ferment over the next week. It's best to place the the sauerkraut in a dark location such as the back corner of a kitchen counter away from windows or in your cellar. Now we wait!
Fermenting The Sauerkraut
After two or three days you should start to see some foam, and bubbling action on the surface of the liquid. This is a good sign and means that the good bacteria (the Lactobacillus) is starting to do it's job, converting sugar into lactic acid!
Your sauerkraut is now starting to ferment!
A Note On Mold
If you see mold starting to grow on the sides of the jar ABOVE the liquid, simply wipe it away with a clean cloth. This may happen since brine may splash up on the sides of the container as you are filling it creating spots for mold to feed on. Rest assured that anything submerged in the brine, will be safe to consume!
Once your German sauerkraut has matured and is as sour as you like, clean the top of the crock and then remove the plate and stone used to weight down the sauerkraut. Generally, sauerkraut is finished fermenting after two weeks, but the longer the bacteria can work away, the more tender the cabbage will also become!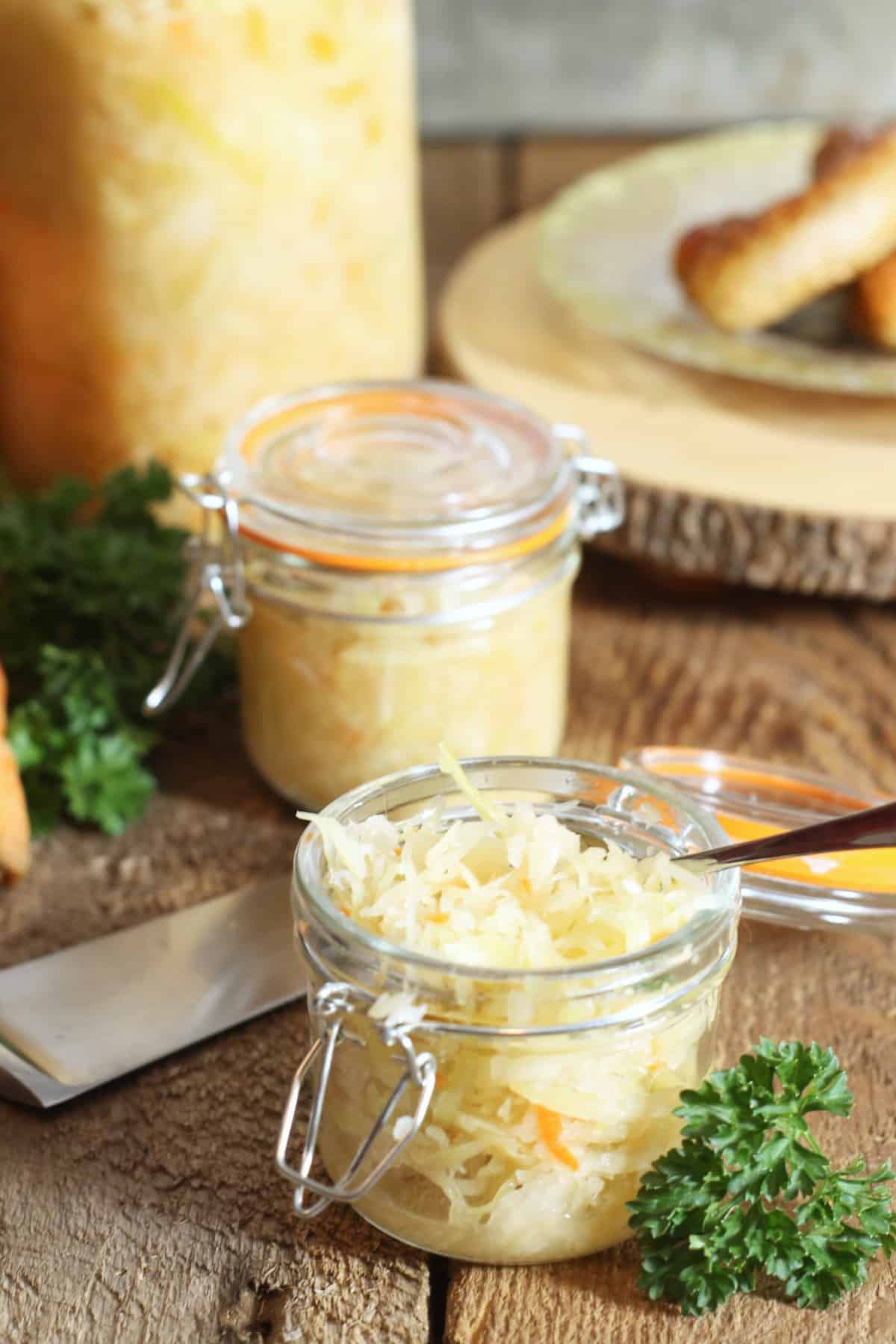 How Long Will Homemade Sauerkraut Keep?
Refrigerated, the homemade sauerkraut keeps best in sealed jars (mason jars are perfect for this). Un-opened these jars will easily keep for 3 months, but you may find it gone long before then!
As my father always makes his 23L of sauerkraut in the Fall, he simple puts the crock out on the porch and covers it with a clean board. The cold temperatures will keep and eventually freeze the sauerkraut for winter, at which point he goes out and chips out some with an axe!
Tried the recipe? Take a picture and tag me on Facebook & Instagram: @earthfoodandfire . For more from scratch recipes follow me on Instagram & Pinterest
Looking for more cabbage dishes? Try this blueberry braised red cabbage!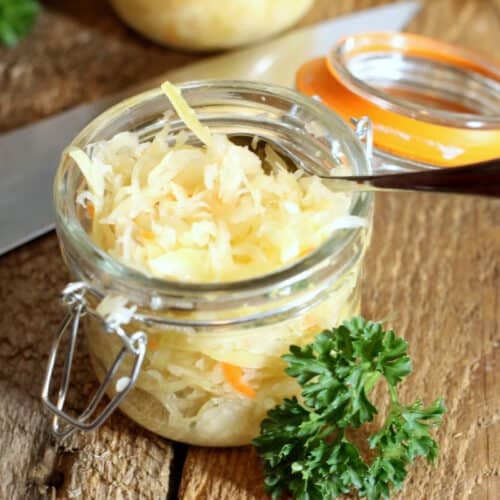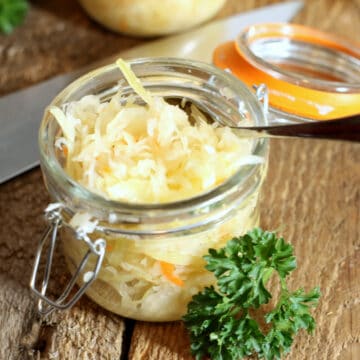 The Best German Sauerkraut You Will Ever Eat
Easy to make a great for your health, learn how to make your own German Sauerkraut. Full of probiotics, vitamins, and a great way to preserve cabbage for the winter, sauerkraut can be eaten cold or hot with various dishes and meats! #fermented #sauerkraut #german #recipe
Ingredients
4.5

lbs

of green cabbage

2

tablespoon

pickling salt

1

carrot
Instructions
Shred the carrot and cabbage.

Mix in the pickling salt.

Pound the cabbage mixture until there is about 1 inch of liquid cover the cabbage when it's pressed down.

Weight the cabbage to submerge it in the brine, and store in a cool, dark area for 10 to 20 days to ferment.

Check the cabbage daily to asses fermentation and remove any possible mold growth.

Store fermented sauerkraut in mason jars in the fridge for up to 3 months after fermentation is complete.
Nutrition
Nutrition info is auto-generated. This information is an estimate; if you are on a special diet, please use your own calculations.
This post contains affiliate links for which I may be compensated if a purchase is made through the links provided. For more information please read my affiliate disclosure.