Sweet and full of refreshing juicy fruit, ripe watermelon always reminds me of summers as a child. Playing all afternoon in the hot summer sun, then cooling down with freshly sliced watermelon. There's nothing better on a hot day! Of course, you need to know how to choose a watermelon to enjoy the best this fruit has to offer.
Once you know how to pick the ripest watermelons, you can, of course, enjoy it fresh. There are plenty of unique recipes you can make to enjoy watermelon this summer though! Check out the recipes at the end of this guide for some summery inspiration!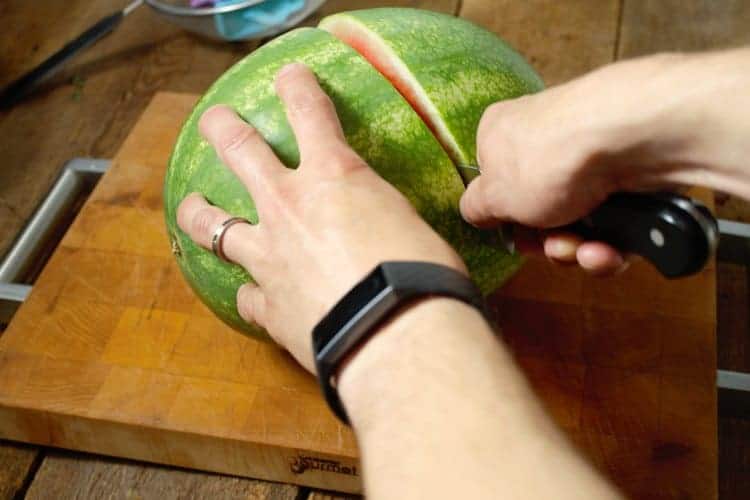 This post contains affiliate links for which we may be compensated if a purchase is made through the links provided. For more information please read our affiliate disclosure.
Choosing Only The Ripest Watermelons
For those of us where watermelon doesn't grow locally, choosing a truly ripe and sweet watermelon can be a bit of a challenge.
If you do have local watermelon available to you, go to the farmers market and get the farmer to pick one out for you! They know what they are doing and can take the guesswork out of it.
For the rest of us, there are 4 simple telltale signs to look for to help ensure we pick only the finest watermelon available.
The Shape - if possible try and choose a watermelon that is evenly shaped and doesn't have pointed ends. Blunt (flattened) ends indicate the melon may be fully mature and won't grow any larger.
The Weight - pick the watermelon up. Regardless of size, it should seem heavy for its size, and not light or airy.
Field Spot - watermelons grow on a vine which creeps along the ground. This means the melons mature with one side on the ground. This 'sun' or 'field spot' is usually pale and not as green as the rest of the melon/due to lack of sunshine. The longer the melon ripened on the vine the more pronounced the spot. Pick melons with a creamy yellow sunspot. Melons with a white spot are not yet ripe.
The Sound - give the watermelon a good thump or tap with your hand. It should have a deep hollow, ringing sound.
Now that you've chosen the perfect watermelon, take it home and enjoy it! Eat it plain on its own or turn it into any one of these delicious recipes!
Refreshing & Unique Watermelon Recipes
Did you find this guide useful?? Comment & Rate it below, then tag me on Facebook & Instagram: @earthfoodandfire . For more DIY gardening tips & from scratch recipes follow me on Instagram & Pinterest