A popular way to spend New Years and Christmas in Germany, making fondue with friends is a fun and classic party food suitable for any holiday. A very easy meal to put together, meat fondue (called fleischfondue in Germany) can include any variety of meat, and cater to a multitude of tastes.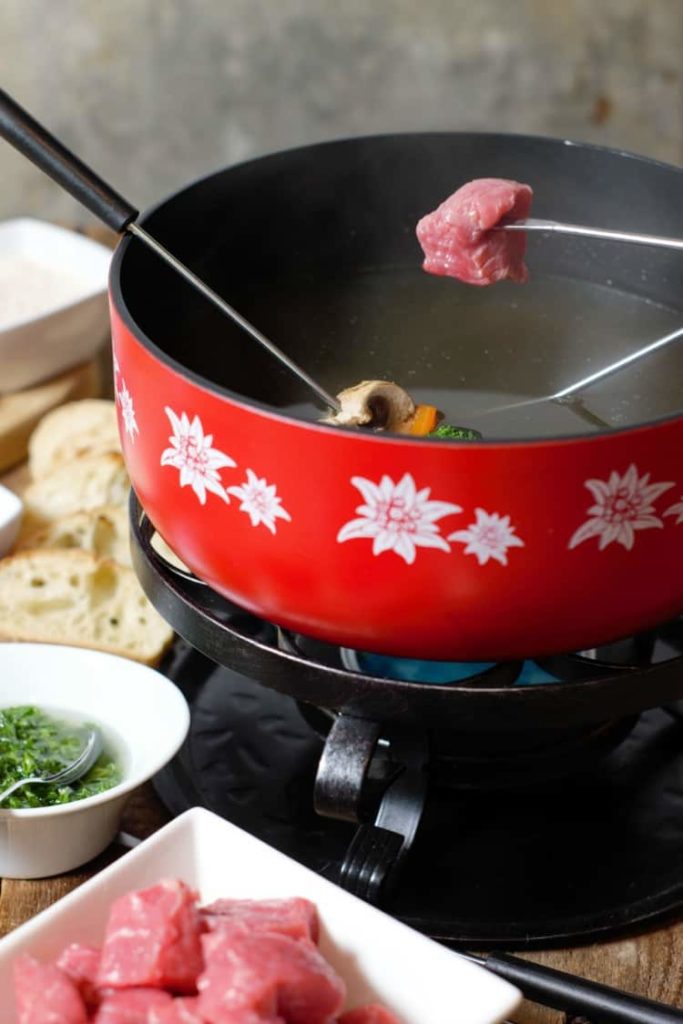 Where the traditional Swiss Cheese Fondue ( usually involving bread being dipped into a hot cheese base) is usually served as an appetizer or an hors d'oeuvre at dinner parties and other gatherings, meat fondue is meant to be more of an entree type meal.
This post contains affiliate links for which we may be compensated if a purchase is made through the links provided. For more information please read our affiliate disclosure.
Meat Fondue - The Basics
While preparing fondue with friends and family is great fun, a good fondue party is only successful with proper planning. You'll need to select meats, vegetables, sauces, and side dishes (which can all be prepared ahead of time) to serve your guests.
Preparing these items ahead of time makes serving meat fondue virtually effortless as the guests end up doing all the 'cooking' themselves!
Oil Or Broth Based Fondue?
Meat fondue can be either broth or oil-based depending on how you prefer to cook your meats and other sides. Oil fondus are heated to a temperature of 375F and cook food fairly quickly. Broth-based meat fondue is only brought to a simmer (195F-200F) and as such take longer to cook food. Keep this in mind when planning your party!
Regardless of which base you choose you'll need at least 1 - 1.5 litres of broth or oil when serving 8 guests.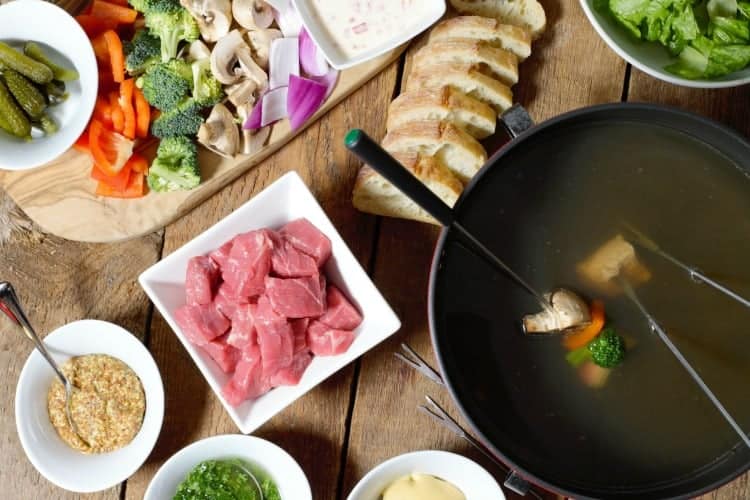 Broth-based meat fondues are just as delicious as the oil-based variety, and can even be flavoured to help infuse more flavour into your food items. Herbs, spices, and even wine can be added to the broth to infuse the fondue with flavour. Homemade chicken, beef, or vegetable stock/broth is best, but a store-bought broth can easily be used in a pinch.
Since a broth-based fondue isn't heated quite as high as an oil fondue, note that the meat will take longer to cook, especially if larger pieces of meat are used. As such ensure there is plenty of time for guests to keep there skewers submerged in the broth.
Oil-based meat fondues essentially deep-fry the food, and can cook various meats and vegetables quite quickly, (anywhere from 25-60 seconds in the oil depending on how well done you like your items). This makes oil based fondus great when there are a large group of people looking to cook a lot of food.
When preparing oil for meat fondue (regardless of the type of meat you are serving), you should choose an oil with a high smoke point such as canola, or sunflower oil. Palm oil or coconut oil can also be used.
Selecting The Meats
You'll need to make a selection of meats you wish to serve with your fondue. Beef, chicken, lamb, and seafood are all fair game, just make sure the meat is firm enough to stay on a skewer.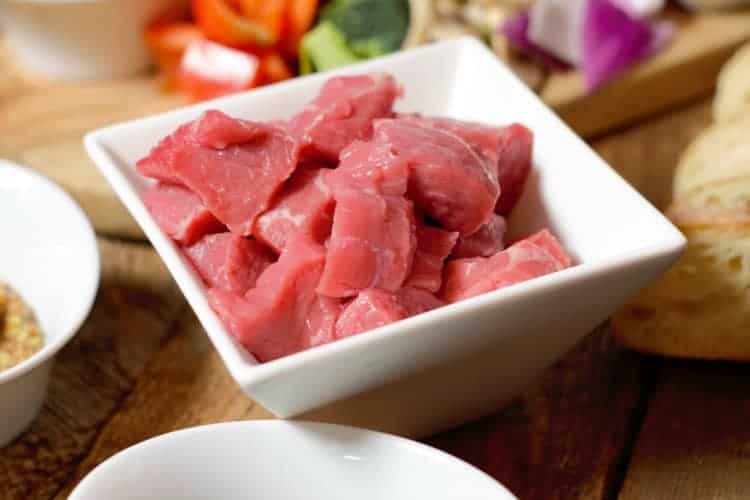 When selecting cuts of meat, choose ones that are fairly tender to begin with. Tenderloin, and sirloin are ideal when using beef. Pork or lamb loin also works well. Tough cuts such as shoulder or leg cuts with a lot of connective tissues should be avoided.
Prepared items such as mini meatballs and sausages can also be served! Just make sure the meats are all small enough to cook fairly quickly. Cuts of meat should be sliced or cubed into bite-sized pieces of 1 cm thickness or smaller.
Have your meats cut and prepared ahead of time, and then serve them in small bowls or dishes for guests to easily choose between the various kinds of options. Plan for about 7-8 oz (200-300 grams) of uncooked meat per guest.
Selecting Vegetables
Besides the meat, it is also traditional to serve various prepared vegetables that can be cooked in the oil or broth. Literally any kind of vegetable is suitable for a fondue, though firm vegetables which will cook quickly (such as, bell peppers, mushrooms, broccoli, asparagus) are preferred. Remember it needs to stay on a skewer!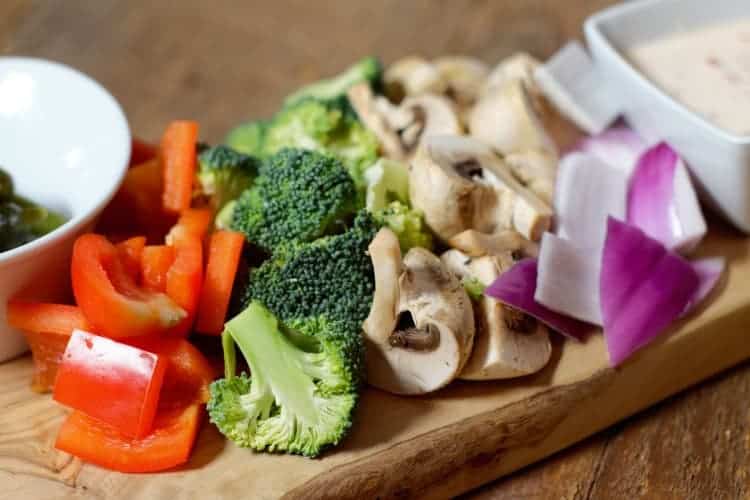 Tougher vegetables such as carrots, and cauliflower, can be served though they should be cut and blanched(par-cooked) ahead of time to reduce their cooking time.
Just as you did with the meat, prepare 2-3 types of vegetables ahead of time by cutting them into bite-sized pieces and serving them in individual bowls.
Condiments & Sauces
Once you've made a decision on the types of meats and vegetables you would like to serve, you'll also want to prepare or provide a selection of condiments, and sauces that can be eaten alongside the cooked food items, while you wait for the food to cook.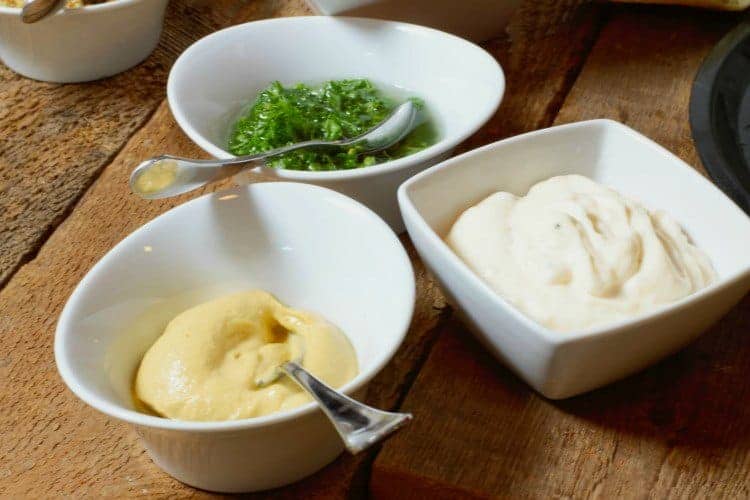 The easiest option here is to make a few simple sauces and purchase a couple of gourmet condiments such as dijon mustard, chutneys, or salsas. Pickled cucumbers, pickled onions, and olives all make a great addition as well!
A few of my favourite homemade condiments to serve include:
Chimichurri - Mix 1 cup chopped fresh parsley, 2 minced garlic cloves, 1 small chili, 1 lemon juiced with 1 cup olive oil. Find the full recipe here.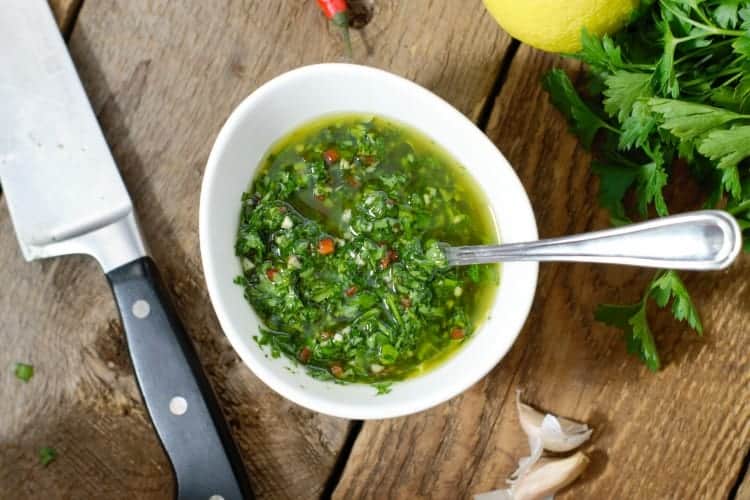 Garlic Aioli - Mix 1 cup of mayonnaise with 3 cloves of minced garlic a squeeze of lemon, freshly cracked pepper, and 1 teaspoon of dijon mustard.
Spicy Roasted Red Pepper Sauce - Mix 1 cup of sour cream with a half cup of chopped roasted red pepper, 1 minced garlic clove, 1 teaspoon Siracha (or other hot sauce), and 1 teaspoon chopped chive. Blend it all together in a food processor for a sweet and spicy dip.
Basil Pesto - Blend together 1 cup fresh basil, 2 tablespoons pine nuts, ¼ cup parmesan cheese, 1 lemon juiced and 2 garlic cloves with ⅓ cup olive oil.
Don't Forget The Sides!
While you did all the hard work planning what your guests can dip into the fondue to cook, what do you do while you wait for the food to cook!? This is where a few simple side dishes come in handy. Make this easy by asking each guest to bring a simple side dish to the party!
A few favourites include:
A simple Green or Garden Salad
A freshly baked baguette or other loaf of crusty bread
A pasta salad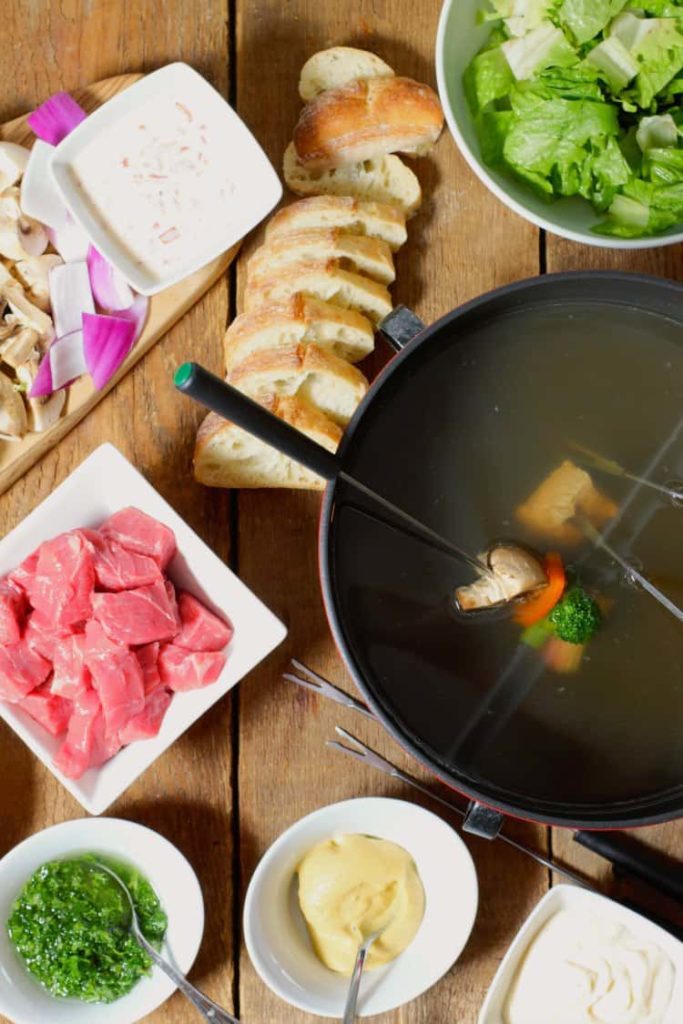 Watch the web story: Easy Dinner Party Ideas - German Meat Fondue
Made the recipe? Comment & Rate it below, then take a picture and tag me on Facebook & Instagram: @earthfoodandfire . For more from scratch recipes follow me on Instagram & Pinterest
Recipe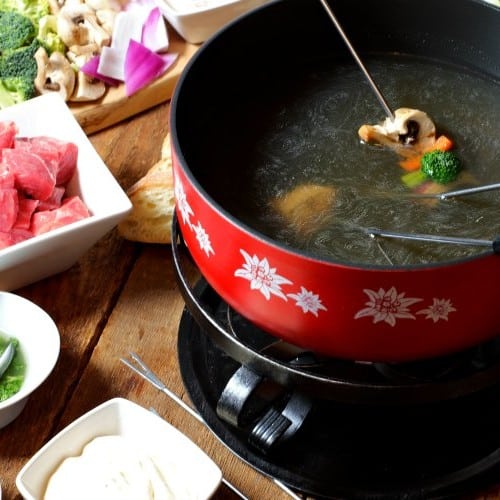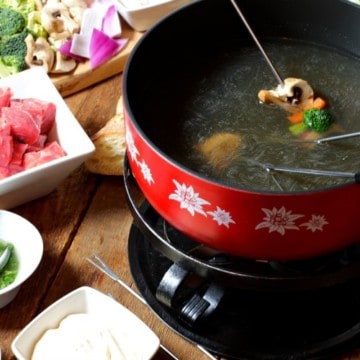 German Meat Fondue (Fleischfondue)
An easy meal to put together, meat fondue (called fleischfondue in Germany) can include any variety of meat, and cater to a multitude of tastes. The perfect party food for the holidays!
Ingredients
Fondue Base (Oil or Broth)
1

Liter

canola oil

or other oil with a high smoke point

1.5

Liters

Beef or Chicken Broth
Meats
4

lb

Various Cuts of Meat

can include beef, chicken, pork, lamb, or seafood
Vegetables
1

cup

mushrooms

cut in half

1

cup

broccoli

cut into florets

1

cup

bell pepper

cut into large squares

½

cup

red onion

cut into cubes
Sauces
½

cup

dijon mustard

1

cup

chimichurri

see post above for details

1

cup

garlic aioli

see post above for details

1

cup

spicy red bell pepper sauce

see post above for details

1

cup

basil pesto

see post above for details
Instructions
Prepare the Broth or Oil
If using oil as your fondue base, select one with a high smoke point, and measure out about 1 litre of oil. Heat it to 375F in a large pot on your stove. Pour the hot oil into the fondue dish right before serving and light the flame to keep the oil hot.

If preparing a broth-based fondue, you can choose to make a stock/broth from scratch or purchase broth from the store. Fortify the broth in a larrge pot with fresh herbs such as thyme and rosemary, peppercornss, garlic, and a splash of dry wine. Heat the broth on the stove and pour 1.5 litres of it into the fondue dish right before serving.
Prepare the Meat
Purchase a tender cut of your favourite type of meat. Beef, chicken, pork, lamb or seafood are all great. Plan on preparing about half a pound (8 oz) of raw meat per guest. Cut the meat into bite-sized slices or cubes no thicker than 1 cm. Reserve the cut meat in small bowls for easy serving and refrigerate until you begin the fondue.
Prepare the Vegetables
Wash and trim the chosen vegetables as required. Chop the vegetables into small bite-sized pieces. Place into individual little bowls, or display on a serving tray. Refrigerate the raw veggies until serving.
Prepare the Sauces
Prepare any of the suggested sauces in the guide, and refrigerate until required. Serve in individual little dishes.
Nutrition
Nutrition info is auto-generated. This information is an estimate; if you are on a special diet, please use your own calculations.