A simple wild foraged herbal tea, spruce tea can be enjoyed year round, and is a great natural source of Vitamin C. Learn how to identify various evergreen trees, and how to use them in teas with this simple guide.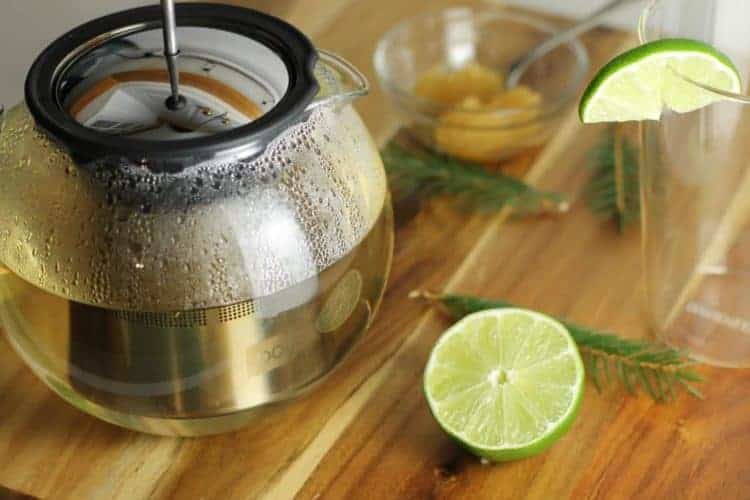 Being able to use the resources the earth provides us is a big part of what Earth, Food, and Fire is all about. Everything we need to survive and thrive is naturally provided to us... if we know where to look of course. Being able to grow a garden for your own produce or growing herbs indoors is a great skill to have. On the other hand, foraging for wild food can be just as rewarding, and in certain situations even important.
It's an aspect of cooking that seems to have been forgotten along the path to modernization, yet it plays such in important role in food security for so many different cultures and communities worldwide. With new types of fruits, vegetables, and other plants being hybridized and created through horticulture every year, it's easy to forget about the edible plants growing right in your own backyard. This spruce tea recipe is an ideal example of using what the natural world provides for us right at home.
Conifer Trees As Food
Spruce, Fir, and even Pine trees are all edible plants and have a long history of being used as medicinal ingredients in traditional medicine. All of these conifers are exceptionally high in vitamin C and even contain some vitamin A as well as other beneficial compounds. Drinking tea made from the needles and twigs will prevent scurvy in survival situations and was regularly used by Native Americans as a decongestant, remedy for bronchial infections, and even rheumatic ailments.
[clickToTweet tweet="Make tea with wild ingredients found in your back yard! #spruce #tea #foraging" quote="Make tea with wild ingredients found in your back yard! "]
The inner bark of the trees can be dried and ground into flour and used to thicken soups or incorporated into various breads. While all three types of conifers may be used to brew tea, they all differ slightly in flavor and woodsy-ness, with Pine being the strongest in flavor and Fir the mildest.
I find Spruce tea to be the ideal middle ground with a light citrusy earthy note. With a teaspoon of honey and wedge of lime, Spruce tea really is quite delicious.
Foraging For Your Spruce Tea
The most important aspect of foraging and eating wild foods is being able to tell the different species apart. Spruce, Pine, and Fir are all fairly similar and you don't need to fear being poisoned picking one over the other when making your own tea.
While the evergreen needles do make a delicious woodsy beverage and may be consumed with no ill effect, pregnant and breastfeeding mothers should avoid drinking it, as it can induce miscarriages and early labor. Eating the needles raw can also cause stomach cramps and indigestion and is not encouraged.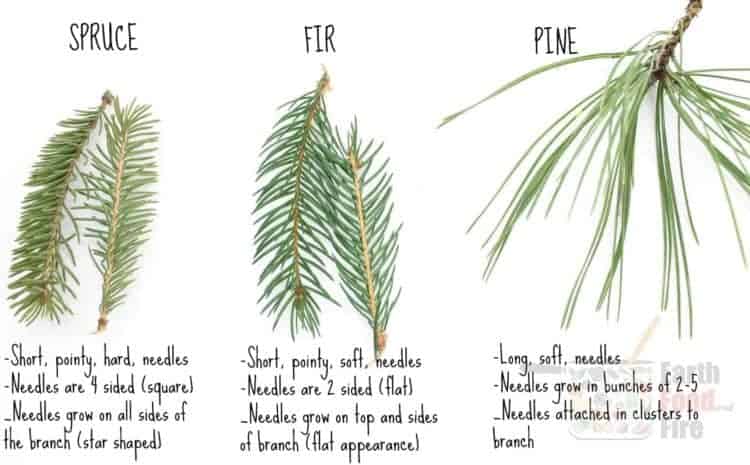 Identifying Spruce Trees
The easiest way to identify and differentiate between Pine, Spruce, and Fir is by the needles. One of the biggest differences from pine is that Spruce and Fir trees have short needles that are pointy and are attached individually to the branch.
Pine needles are long and grow in clumps of 2 to 5 needles a bunch
Fir needles are softer, flat, and do not grow out from all sides of the branch as spruce needles do.
Spruce needles are short and pointy, but are stiffer then Fir and four sided. Spruce needles also grow from all sides of the branch creating a round star shaped effect.
An easy way to tell the needles apart is to pick one off and try rolling it between your thumb and index finger. Spruce needles being four-sided will roll quite easily while Fir needles which are flat and only have two sides will not roll so well. - Chef Markus
Evergreen needles can be harvested any time of the year, much like rose hips and chaga are available year round, but the most tender sprigs are harvested in the spring. During Winter when wild foraged food is scarce, older needles will do, though they will have a stronger and more bitter taste.
In the spring when trees start producing new growth you can pick the little bright greens buds of needles and use them to make tea as well. This new growth will have the highest concentration of vitamin C and can be almost sweet in flavor. Spruce and Fir tips can be blanched (and even pickled) to be enjoyed as an addition to salads.
Brewing Spruce Tea
Once you have your Spruce needles harvested, take them home or back to your campsite and rinse them with some clear water. This removes any insects that may be hiding in between the needles. Trim the twigs to a manageable size appropriate for your teapot and set them aside.
You can even pick the needles themselves off the branch for an even milder tea, as the woody, sap filled branch can add a bitter flavor. The choice is yours.
Bring a pot of water to a boil in a kettle or over the fire and once boiling pour over the Spruce needles. You will immediately smell the light woodsy aroma coming from the pot. It's important to avoid boiling the spruce directly in the pot and instead steep the twigs and needles as the extreme heat created through boiling will destroy the vitamin C.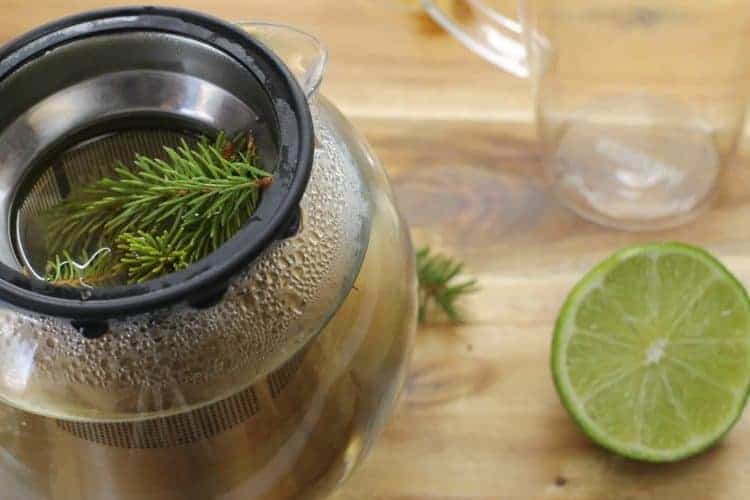 Let the tea steep for 10 to 15 minutes and then adjust the flavor with a little raw honey and some lime.
It's the perfect beverage to enjoy out in the woods while on a hike or inside on a cold Winter day. The high concentrations of vitamins, (particularly Vitamin C) makes this the ideal tea to help beat colds and flu.
Now you may be wondering why is the tea so clear? This is normal, since as the tea steeps you are extracting vitamins and minerals from the needles. The needles have very little pigment in them and do not color the tea. If you let the tea sit for any amount of time it will start to turn a deep amber color as it begins to react with the air around it.
Other Wild Foraged Herbal Teas
Tried this recipe? Rate the Recipe below, and take a picture and tag me on Facebook & Instagram: @earthfoodandfire . For more from scratch recipes follow me on Instagram & Pinterest
Recipe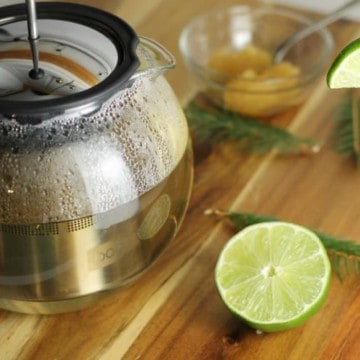 Spruce Tea with Honey & Lime
A simple wild foraged herbal tea, spruce tea is loaded with Vitamin C and is a great drink to enjoy on a cold winters day.
Ingredients
1

cup

of spruce twigs or needles rinsed

1

teaspoon

raw honey

1

wedge lime

3

cups

boiling water
Instructions
Steep the spruce needles in hot water for 10 to 15 minutes. Adjust flavoring to taste with the honey and fresh lime.
Nutrition
Nutrition info is auto-generated. This information is an estimate; if you are on a special diet, please use your own calculations.
Tried the recipe? Take a picture and tag me on Facebook & Instagram: @earthfoodandfire . For more from scratch recipes follow me on Instagram & Pinterest
Some of the links in this post lead to affiliate sites through which Earth, Food, and Fire may earn a small commission (at no increased cost to you) should you make a purchase. This allows us to stay online and keep creating awesome content! For more info check the Affiliate Disclaimer. All recipes, and opinions are 100% my own.